February 2007
Travel Industry Leaders Join the New York Times Travel Show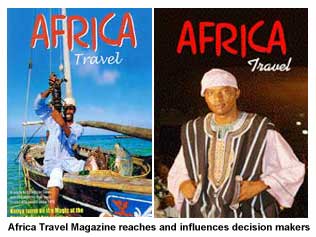 The Africa Travel Association will have an INFORMATION BOOTH at the New York Times Travel Show with copies of Africa Travel Magazine available. Contact us mailto:africa@dowco.com Discount on booths for ATA member countries and companies.
Exhibitors and sponsors have the opportunity to reach 25,000 avid travelers and travel professionals through integrated promotional programs at this unique show.
Thirteen industry associations are supporting the show: the Travel Industry Association (TIA), the American Society of Travel Agents (ASTA), the U.S. Tour Operators Association (USTOA), Hospitality Sales & Marketing Association International (HSMAI), Cruise Lines International Association (CLIA), NYC & Company, Caribbean Hotel Association (CHA), The Travel Institute, Caribbean Tourism Organization (CTO), Africa Travel Association (ATA), National Association of Commissioned Travel Agents (NACTA), Modern Agent and Society for Accessible Travel & Hospitality (SATH)
Among the dozens of exhibitors at the show will be Adventure Travel LLC, Globus and Cosmos Tours, Grand Expeditions, India Tourism, Lindblad Expeditions, Maine Office of Tourism, Relais and Chateaux, Safari Africa, Tauck World Travel, Texas Approach, Universal Orlando Resort and Wyoming Travel & Tourism. The show will feature nine pavilions showcasing different tourist destinations in Africa, Asia, Australia/South Pacific, Canada, the Caribbean, Europe, Mexico/Central America, South America and the United States. In addition, industry pavilions will showcase exhibitors in the cruise and hotel sectors.
The Tourism Industry Conference, consisting of a series of seminars on travel industry issues, will be offered exclusively to representatives from the travel trade. The seminars will be conducted by leading travel industry organizations, including USTOA, The Travel Institute, ASTA, CLIA and NACTA. Throughout the weekend, public seminars by industry professionals and show exhibitors will address current tourism issues, offer practical travel advice and details on new travel technology improvements. Also for the public will be giveaways, sweepstakes and live entertainment from different parts of the world.
Exhibitor packages for show participants include booth space, a listing in the show directory and an ad in the Escapes section of TheTimes, which will be published on Friday, February 27, 2004. Multiple sponsorship levels include advertising opportunities in The New York Times that will provide extensive pre-show and on-site exposure. For more information about the show, or to become a sponsor or an exhibitor, please log on to www.nytimes.com/travelshow.


The New York Times Company (NYSE: NYT - News), a leading media company with 2002 revenues of $3.1 billion, includes The New York Times, The International Herald Tribune, The Boston Globe, 16 other newspapers, eight network-affiliated television stations, two New York City radio stations and more than 40 Web sites, including NYTimes.com and Boston.com. For the third consecutive year, the Company was ranked No. 1 in the publishing industry in Fortune's 2002 list of America's Most Admired Companies. In 2003 the Company was named by Fortune as one of the 100 Best Companies to Work For. The Company's core purpose is to enhance society by creating, collecting and distributing high-quality news, information and entertainment.
American Express - Presenting SponsorAmerican Express entered the travel agency business in 1915 and today is the world's largest travel agency network. The company has more than 1,700 Travel and Foreign Exchanges Services locations worldwide in more than 130 countries. American Express Company is a diversified worldwide travel, financial and network services company founded in 1850. It is a world leader in charge and credit cards, Travelers Cheques, travel, financial planning, business services, insurance and international banking. For more information on American Express, visit our Web site at americanexpress.com.
The New York Times
Tel. 212-556-4425