Adventures in the World of Publishing.
Profile of Jerry W. Bird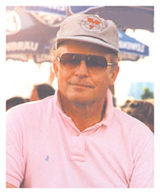 From Canada's vast, rugged Northwest to Africa's emerging nations, life's adventure continues to unfold for the Editor Publisher of Africa Travel and Air Highways Magazine. Born in the Klondike Gold Rush capital, Dawson City, Jerry Bird's wilderness adventures started early in life. Dog teams, horse drawn sleighs, snowshoes, parkas and mukluks were part of the everyday scene in winter, while ice floes on the Yukon River and a brilliant midnight sun marked the changing seasons. Treks by saddle and pack horse, as part of a Canadian Government Topographical Survey team, scaling yet unnamed Yukon mountains, flights by float plane to remote lakes, and two exciting seasons as a crew member on the riverboat SS Keno, (below) set the stage for many adventures to come.
Dawson City Days:
Jerry's father, Don Bird of Seattle, served with the Royal Canadian Mounted Police in the Yukon Territory. His mother, Violet, was from Vancouver, British Columbia. Dawson city was like a time-capsule; a living museum reminiscent of the Mark Twain era, with relics of Gold Rush Days on every corner. Monster gold dredges still operated on Bonanza, Eldorado and other Klondike creeks. Arctic grayling and salmon teemed in the rivers, lakes and tailing ponds - and every growing boy soon learned to cope with nature. Many of Jerry's school friends were of native heritage, which added another dimension, an attitude of tolerance.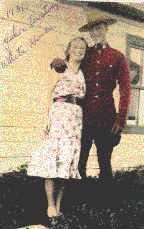 Travel on the narrow-gauge White Pass & Yukon Railway, along the shoulders of Alaska's Sawtooth Range and Trail of '98, plus journeys on Canada's two great transcontinental routes, fueled his interest in rail travel (See Adventure Rails). Flying with Pat Callison and other Northern bush pilots, followed by service in the Royal Canadian Air Force, sharpened his interest in aviation.
The Steamer Keno , last of a proud fleet of sparkling white Yukon River Paddle wheelers, trimmed in gingerbread, with its tall yellow smokestack and bright orange paddle wheel, is now a permanent museum in Dawson City. Sailings along the misty fjords of the Alaska Panhandle and Inside Passage, from Skagway, Alaska to Vancouver, BC, whet Jerry's appetite for waterborne adventures.
Edmonton, Alberta, Canada: Jerry W. Bird's media career was launched at The Edmonton Journal, a major daily newspaper, owned by Southam. His public speaking efforts began in Calgary, with Toastmasters International, and continued with association work and broadcast media appearances. The creative process, using all aspects of communications technology excites him. Desktop and web publishing, opened up huge avenues as a self publisher and broadcaster. Jerry has been equally inspired by many other developments along the way, from color lithography to award-winning audio visual productions.
This combination of experiences became the pathway to his launch of Air Highways Magazine in 1995 with support from Transport Canada's Regional Director and over 30 airport managers. A dual citizen (Canada-USA), Jerry joined the Africa Travel Association (ATA) in 1995 to launch Africa Travel Magazine, whose reach is world wide thanks to its 1,150 page web site. To promote the magazines, he has organized a series of travel industry events in Vancouver, where he is President of ATA Canada Chapter.
Partnerships and Associations. Mr. Bird was keynote speaker on "Tourism" at the Trans Canada Yellowhead Highway Association's 56th Annual Convention in Edmonton, Alberta. His experience with governments included agencies at all levels. He has worked with and produced training and marketing films for many organizations, including the Propane Gas Association of Canada which won a Creative Excellence Award at the U.S. Industrial Film Festival. Others include the Canadian Petroleum Association, Canada's Manufactured Housing industry, Certified General Accountants' Association of Canada, RV Manufacturers, Shrine-Lions Sweepstakes, Alberta's Electrical Power Companies Group, Alberta Potato Growers, Hotel and Travel Industry associations, and the Housing and Urban Development Association (Homexpo).
Corporate and Government Client Projects. His first environmental projects dealt with "Oil Spill Recovery and Cleanup" for the Canadian Petroleum Association and Imperial Oil (Esso) and programs for Alberta's Electrical Power Companies. The Government of Canada hired Jerry to produce several features, including "Alaska Highway- The First 50 Years. " For the Trans Canada Yellowhead Highway Association, Mr. Bird was keynote speaker in 2002 and wrote the content for their latest magazine Yellowhead It, which profiles all of the communities en route from Winnipeg to the Pacific Coast. Articles and features by Mr. Bird have appeared in national and regional magazines and newspapers, while his video and audio visual titles currently number close to 100.
Mr. Bird's client list includes: Alaska Highway 50th Anniversary, Alberta Treasury Branches, Holiday Inns, Avis Rent A Car, Best Western International, Burns Foods Group, Calgary Brewing, Calgary Exhibition & Stampede, Carma Developers, Cargill Inc, CGA-Canada, City of Calgary, City of Edmonton, City of Saskatoon, Dupont Chemicals, Eli Lily & Co, Family Life Insurance Group, Government of Alberta, Government of Canada, Gulf Oil Canada, Imperial Oil (Esso), May & Baker, P. Lawson Travel, Purity 99 Gasoline, Quadrant Developers, Sheraton Hotels, Sunny Boy Cereal, Travel Alberta, Travelodge and University of Calgary. In addition to the above, he has handled numerous retail marketing projects.
Read excerpts from "Angels On My Shoullder" in Mr. Bird's Keynote Speech to the Trans Canada Yellowhead Highway Association in Edmonton.
"With the escalating cost of paper, a valuable forest resource, publishers should expand their reach and serve more readers per copy. A good magazine is a keeper, with an extended life span, like National Geographic which never seems to go out of date. On the Internet, the real challenge is to cut through the clutter and bombardment of asinine sales pitches and empty promises."
Jerry W;. Bird

Jerry W. Bird: Editor, Publisher, Award Winning A/V Producer. Mr. Bird's columns have appeared in Latitudes Magazine (Montreal), Africa Travel Magazine, Air Highway Journal of Open Skies, Canadian Traveller Magazine, Maturity Magazine, Roads to Canada's Great Drives, Seattle Prime Times, Wing Span and others