see our page on CalliforniaCulinary Classes
Culinary Tourism
Experiencing a destination's food is elementary to understanding its social structure and surroundings.
A new niche — Culinary Tourism — means traveling to experience a destination through a variety of gastronomic activities. A destination's culinary style reveals its history, culture and influences.
Importance and Value
Capturing a fast-growing segment of the world's travel industry
Economic vehicle to drive trade, create sustainable development, add social and cultural value to community
Innovative approach to position your products and services,and establish a competitive edge
Revenue Generator for your Company and Country
Culinary tourism today is where eco-tourism was 20 years ago; people are starting to take an interest.
Showed that 27 million travelers, or 17% of American leisure travelers, involved in culinary or wine-related activities while travelling within the past three years.
Bright future for the culinary traveler market, as the share of U.S. leisure travelers interested in culinary travel in the near future (60%) is significantly larger than those currently engaged.
Even though, the surveys were done in Canada, UK and US, the results represent a new and developing trend within the international travel industry.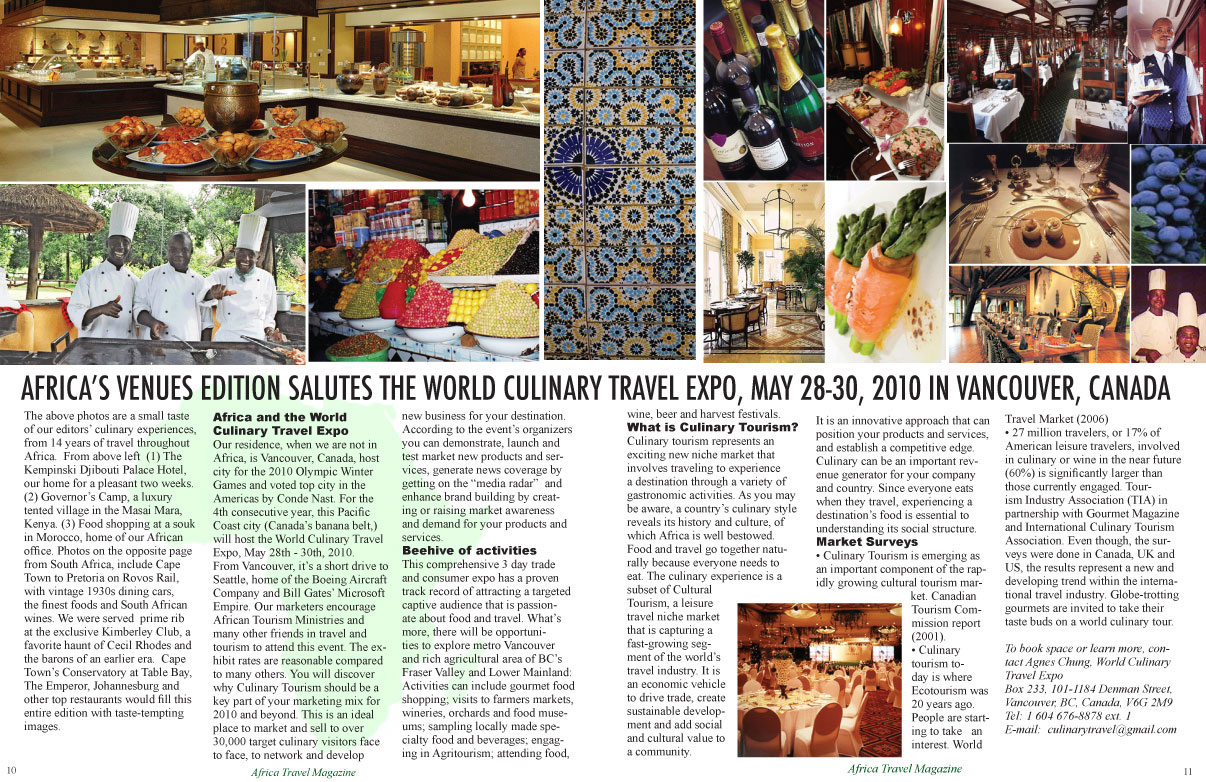 | | | | |
| --- | --- | --- | --- |
| | | | |
| Winter Olympic Games 2010 | World Culinary Tourism Expo | World Cup Fever 2010 | World Airline Routes 2010 Convention |
| | | | |
| World Travel Market Awards, London | Discover the Old West in Santa Fe | LA Times Travel & Adventure Show | Mayors meet at World Urban Forusm |