Fly Air Transat from Canada to 90 destinations in 25 countries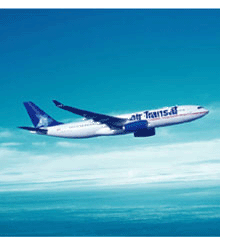 As editors of Air Highways and Africa Travel magazine with a varied agenda of events, we have flown Air Transat from Vancouver to London on our regular to various destinations in Africa and have been pleased with the service, price, reliability and convenience of their flights. Air Transat specializes in charter flights from several Canadian and European cities to vacation destinations, mainly in the south during the winter months and in Europe and Canada during the summer. Year-round, we link Canada's principal cities. Our fleet of 15 aircraft serves 90 destinations in 25 countries. With a fleet of 17 aircraft, Air Transat is Canada's leading vacation airline. Air Transat is a subsidiary of Transat A.T. Inc., an integrated company specializing in the organization, marketing, and distribution of holiday travel. The core of its business consists of tour operators in Canada and France. Transat is also involved in air transportation, hotel management, and value-added
Recently, Air Transat, a preferred airline of many Canadian vacationers, celebrated its 15th anniversary. The airline's first flight was from Montreal to Acapulco on November 14, 1987. Air Transat then played a major role in the development of the Transat group, which today ranks among the global leaders in integrated tourism. To highlight Air Transat's anniversary, the corporation has planned a program of activities for employees and partners as well as for travel agents and tour operators. The program will run until December 2OO3.
In its 15 years of existence, Air Transat has developed expertise that has made it the standard of excellence among vacationers. Every year, more than three million travelers confidently put heir trust in Air Transat, mainly because of the professionalism of its employees, the quality of its service, and the assurance of traveling in complete security and in comfort, thanks to our fleet of high performance aircraft.
Allen B. Graham, President and Chief Executive Officer of Air Transat.