TOURISM INDUSTRY WELCOMES FEDERAL MARKETING INVESTMENT IN THE US

Tourism Industry Welcomes Federal Marketing Investment in the US
GROSSE ĪLE, QC, May 22, 2015
- Prime Minister Stephen Harper announced his government's support for
Connecting America
, the Tourism Industry Association of Canada's (TIAC) marketing proposal to attract US visitors to Canada.
The federal government has pledged to invest $30M over three years in a partnering formula to re-enter the United States with a strategically-aligned and innovative leisure marketing campaign led by the Canadian Tourism Commission (CTC).

"By investing in US marketing, the government has responded to the top priority of tourism businesses across the country," stated Charlotte Bell, TIAC President and CEO. "During our Tourism Town Hall consultations across Canada, industry has been unanimous in their desire to get back in the US market and take advantage of the recovering US economy, record high passport ownership and the favourable exchange rate."
While Canada currently welcomes 11.5 million American visitors yearly spending over $7 billion to the economy annually, these numbers are down 24% from a decade ago.
Connecting America
will target US leisure travellers and raise awareness of Canada's world class hospitality and tourism experiences.
Small and medium sized businesses comprise 98% of Canada's tourism sector.
Connecting America
is estimated to generate up to $400M in new spending and 2 900 new jobs across the country.
"Tourism is a fiercely competitive global industry where ease of access, world-class experiences and strength of marketing voice define advantage. TIAC continues to work through the
Federal Tourism Strategy
to improve conditions for tourism businesses to generate wealth and create jobs in communities across Canada," concluded Bell.
TIAC wishes to acknowledge the support of the Honourable Maxime Bernier, Minister of State for Small Business and Tourism, Blake Richards, MP and Chair of the Parliamentary Tourism Caucus and the parliamentarians, provincial governments and industry activists that worked on this initiative.
About the Tourism Industry Association of Canada

The Tourism Industry Association of Canada is the only national organization representing the full cross-section of Canada's $88.5 billion tourism industry. TIAC's members include air and passenger rail services, airport authorities, local and provincial destination authorities, hotels, attractions and tour operators.
Rob Taylor
---
15 April 2014

As the leading Canada-Africa membership organization, C
CAfrica is an essential resource for Canadian companies doing business on the African continent.

CCAfrica's Canada-Africa activities have been regarded as essential networking opportunities for anyone looking to do business in Africa.
Visit the links below to learn more on upcoming activities, as well as previous activities that we have organized.




We're proud of our Magazine's Global Reach!
Global Reach is a business initiative to increase the access between a company and their current and potential customers through the use of the Internet. The Internet allows the company to market themselves and attract new customers to their website where they can provide product information and better customer service. Customers can place orders electronically, therefore reducing expensive long distant phone calls and postage costs of placing orders, while saving time on behalf of the customer and company. A company striving to obtain Global Reach should provide a code of ethics, a company purchasing policy, additional contact information, adequate product information and price. The website itself should be multi-lingual, easy-to-use, and have the ability to secure customer information. Example

And equally proud of the following testimonials!
One More Thing You Can Do to Get More Business.
By: Maurice A. Ramirez, Details

Business Commentary:
Dangers of Being too Social.. Evaluation of Social Web Services
Micro-Finance Company in Kenya.
Advice from a self made man whoretired in his thirties . Go
Outstanding Financial Book on Africa by David Fick Go
Business Focus on Africa and Dubai Go
Prime Ethiopian Business Link Go
UAR Interact Magazine . Go
Mozambique Project Go
Dubai World Partnership Go
South Africa Joint Project . Go
Wall Street Journal on Africa Go
The Africa you seldom see . Go
Africa's Green Revolution . Go
Benefits of the International Executive Service Corps Go
Africa Business Quiz
Tourism development in Africa? Go
What are the laws? . Go
How do we protect against scams? . Go
What is an E-Commerce Website? Go
What are the Options? Go
Sample E-Commerce Site
What is a Shopsite?
Keys to Africa Travel Magazine's Circulation
Associations, Trade Shows and Partnership Marketing: Go
CLICK HERE FOR OUR BUSINESS DIRECTORY
CLICK HERE FOR PROFESSIONAL ASSOCIATIONS
Great Cities of Africa
UN World Urban Forum
Opportunities in Africa: Recently in a half hour interview with Mr. Africa, Ogo Sow on his popular radio program, I had an opportunity to recommend the following book by David Fick, which is one of the most outstanding publications in our library archives. We take every opportunity to let our readers and radio audiences know about it and how to order their personal copy. Mr. Sow's broadcasts appear on the following website www.afrikmedia.com
Eco Solar Car Crosses Continent for $ 9.22
Using only as much electricity as it would take to illuminate a 100-watt light bulb for four days, a group of Queen's University students set a new world record for the longest distance traveled in a solar-powered car. The group's 30-day trip, which began in Halifax on Canada day, ended on the weekend when the streamlined, spaceship-like vehicle cruised into downtown Vancouver. More->
Angola Admitted as an Opec member
Angola Press Agency (Angola). Angola was admitted Thursday as a full right member of the Organisation of Petroleum Exporting Countries (OPEC), during the organisation's 143rd extraordinary conference taking place in Abuja, Nigeria. The country is represented at the meeting by a delegation headed by the Oil minister, Desidério Costa, and includes senior officials of the sector. Speaking recently on the country's adhesion to the oil organisation, Desidério Costa said this permits that Angola, as producing country, is not left isolated from the world. He also said that the price policies do not depend on the country's being or not being part of the organisation. "There is a policy established by the organisation and the other countries, both affiliated and non-affiliated, just have to respect it," he said. With a current production of 1.4 million barrels a day, Angola is the second major oil producer in Africa south of Sahara, after Nigeria, with representatives of the sector expecting to reach two million a day in 2007, thanks to the exploration of new wells. The maritime zone, along the Angolan coast is devided into 74 exploration blocks in shallow, deep and ultradeep waters. Of these, only about 30 are currently in operation. The country's oil reserves are estimated at 12,5 billion barrels. In 2005, Angolan oil sector responded for 90 percent of the exports and half the country's Gross Domestic Product and is responsible for 80 percent of the fiscal revenues. In addition to Angola, OPEC groups Algeria, Saudi Arabia, United Arab Emirates, Iraq, Iran, Libya, Indonesia, Nigeria, Venezuela, Kuwait and Qatar.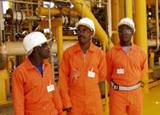 Attention Investors in Africa
We're Search Leaders for Africa Topics
Our site ranks #1 or in the Top 3 in many searches
Google Score for Marketing Africa Tourism to USA
Google Score for Marketing Africa Tourism to Canada
Google Score on Marketing Africa Tourism to Europe
Google Score for Marketing Africa Tourism to Asia
Africa: Continent of Economic Opportunity
The above book cover art is a reproduction of an original batik painting titled "African Connection" by Nuwa Nnyanzi of Uganda (www.nnyanziart.com) Africa: Continent of Economic Opportunity features numerous successful entrepreneurs and enterprises creating jobs. Continued
African Growth and Opportunity Act
"In just four years, the African Growth and Opportunity Act has shown the power of free markets to improve the lives of people in both the United States and Africa. By reducing barriers to trade, this law has increased export, created jobs, and expanded opportunity for Africans and Americans alike. It has given American businesses greater confidence to invest in Africa, and encouraged African nations to reform their economies and governments to take advantage of the opportunities that AGOA provides." President George W. Bush. Full story
Seed Capital for Investment in an African Tourism Project?
A reader recently asked the above question, which we posed to our friends and gurus at Google. Like us, you will be pleasantly surprised with the comprehensive list of sources we received on this quick search. Click for sample list.
Do you have any further sources? Please send a letter to our Business Page Editor.

More late Business and Investment News on Page 2

Africa Travel Magazine Financial Contacts Database Enhances Circulation. To get your company name on this database mailto:africa@dowco.com

COMPLIMENTARY COPIES OF AFRICA TRAVEL MAGAZINE FOR EXPOS AND FORUMS. Exhibitor pays for freight only. mailto:africa@dowco.com
More Investment Information Online

INTRA AFRICAN INVESTMENT
Download this comprehensive report. Please allow a few minutes.

CONTINENT OF ECONOMIC OPPORTUNITIES
New Book by Dave Fick

FOREIGN INVESTMENT BENEFITS UGANDA
Excerpt from a speech by H. E. Yoweri K. Museveni , President of Uganda, http://www.museveni.co.ug "The problem, however, comes when "encouraging" the national middle class can only be done through excessive external borrowing. This increases the country's indebtedness unnecessarily because GDP can be enhanced through another very important and debt-free way, that is foreign investment or, in the case of Uganda, domestic investment by the non-African element of the middle class." (the Asians)
New Style BUSINESS DIRECTORY Ad Listing Format Now Available to Advertisers. mailto:africa@dowco.com . See Directory
Resource List: Banking Contacts in South Africa. Check this website

News Release
The Case For Remaining A Private Company: Give Me Liberty or Give Me an…IPO?
By Steve Kayser. One of the most celebrated events in American business is the initial public offering (IPO). Many see it as a transforming event that ensures a company's long-term survival, signifies an arrival into the business big leagues, and creates wealth - sometimes almost unbelievable wealth. Currently, in the U.S., there are approximately 17,000 public companies. So, why would a company actually choose to remain a private company?
Believe it or not, there are many good reasons not to go public, and I offer for consideration some real-world insights that may cause you to reconsider, or at least pause. Many people question whether or not a private company can actually compete against a public company.
We have been doing it for decades. Our company, Cincom Systems, is a privately held software company that was founded in 1968. We have thousands of customers on six continents and specialize in providing software, services, and hosting to simplify the management of complex business processes. Cincom employs over 1,100 people worldwide and competes with companies like Oracle, SAP, Siebel, and others.
Cincom has generated over $3.5 billion in sales and achieved 20 straight years of producing over $100 million in revenue - a feat matched only by one other software publisher in the world, Microsoft. Throughout our 37 years, we have steadfastly remained a private company. We've never accepted any form of financing from venture capitalists or other equity investors. Throughout the history of the company, all of our financing has been through cash flow and when necessary, debt financing through banks.
This never hurt us when competing against our well-branded and publicly funded competitors in the industry. In fact, it helped us to develop innovative, flexible, and adaptive ways of thinking along with well-honed and passionately articulated value propositions. We have continued to pioneer software innovation in our rapidly changing business environment. Surrounded by well-financed competitors, Cincom has an impressive list of "firsts" in the software industry. In 1984, President Ronald Reagan hailed Cincom as "the epitome of the entrepreneurial spirit of American business," and we're recognized by the prestigious Smithsonian Institute as one of "the pioneers and builders" of the software industry.
When compiling reasons not to go public, one stands out above all the others: freedom. Remaining a private company gives us the freedom to make decisions based on the needs of our clients, not the demands of the shareholders. It helps us to make bold business decisions and to create innovation by acting on these bold decisions. We are free from excessive regulatory burdens and free to adjust to changes in the business environment as we see fit. By avoiding the lure of public financing, we are free to control our own destiny.
Another clear advantage of remaining a private company is that it is much easier to create a unique corporate culture. If you value loyalty, a fair balance between work and family, and community involvement, then you are free as a private company to promote and reward these values. At Cincom, we have created a unique, family-oriented atmosphere that encourages openness and a sense of ownership in the organization we call the "Cincommunity." For this reason, we have attracted an incredibly loyal and committed team, with very low turnover. At the senior-management level, it is not unusual to have 25 years of tenure with Cincom.
Additionally, our customers remain astoundingly loyal because we base our decisions on customer rather than shareholder needs. Ultimately, what has made Cincom successful is being a customer-driven organization. As a result, we have an extremely high average tenure among our clients, some as long as 30 years.
For almost 40 years, we have shown that it is possible to run with "the big boys" as a private company, and we will continue to innovate the software business for decades to come. For now, it is clear that an IPO is a "no-go" for us. For more information or to set up an interview with Steve Kayser for a story, please contact Jay Wilke at 727-443-7115, ext. 223
For more information on Cincom please see www.cincom.com jayw@event-management.com.
About Cincom: Privately held Cincom Systems sells both strategic enterprise software products and support capabilities for clients looking to develop applications internally. The company competes directly with global giants like Oracle and SAP by offering comparable products at a fraction of the cost and deployment time. To help clients consolidate their vendor channels, the company now offers hosting, outsourcing, and other IT services, again at a lower price. The company's sales network was built around marketing partnerships, and new relationships are continually pursued. Asia is viewed as a key growth market. ROIC has averaged 80% over the last decade while earnings have grown 700% in five years. Management is seeking expansion opportunities.
Jay Wilke, Event Management Services, Inc.
1127 Grove Street, Clearwater, FL. 33755
727-443-7115 ext. 223
http://www.event-management.com
Electronic Web Only World Editions of Africa Travel Magazine and Downloads 24/7 on Corporate Press Display Internet Kiosk. Most printed editions are previewed for several months on our websites.