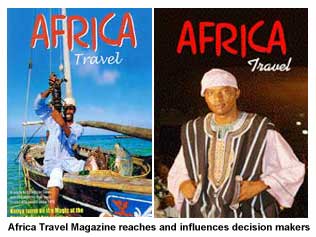 Website Advertising Bonus Effective Immediately and for a full year on our two Websites. Classified Ad: Up to 30 words for all advertisers - plus banners where applicable.



Full Banner for advertisers with half page up. Size: (468x60 pixels)




Half Banner for advertisers with one sixth page to one third page Size: (234x60 pixels)
Website Circulation
Traffic: Hits per month 1,721,682 - Over 20 million annually. Webtrends Mar. 2007
Geographic Reach: 1. North America, 2. Western Europe, 3. Africa, 4. Asia
Print Magazine Circulation
1. African National Tourist Offices: Targeted mailing lists, requests and worldwide event participation.
2. Government Agencies:
African, U.S. and Canadian Embassies; African City Visitors and Convention Bureaus.
3. Travel Trade Shows:
Our greatest exposure ever at expos across North America and Africa.
4. ATA USA- Canada Chapters:
New York, Washington, Atlanta, Detroit, Chicago, Tennessee, Florida, California, Vancouver
5. ATA Africa Chapters:
Kenya, South Africa,Tanzania, Ghana, Benin, Cameroon, Guinea, Côte d'Ivoire, Nigeria, Uganda, Zambia.
6. ATA Association Partners: ASTA, WTO, ARTA, CCA, IIPT, USTOA, TIES, SADC, AGOA.
7. Airlines, Airports, Corporate Partners: Plus Chambers of Commerce, Hoteliers, Financial Institutions,
8. Educational: Universities, Churches, Teacher and Student Organizations, Travel Training and Flight Schools.
9. Retail: Subscriptions via internet, plus bookstore and newsstand sales.
10. Mass Distribution:
Bulk orders, reprints and inserts for seasonal promotions.