Europe's 'seamless' air - rail connections
by Jerry W. Bird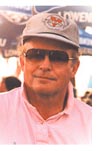 Oh, how I wish we had this type of seamless air rail connection in Canada!. Last spring's rail trip to Paris began shortly after we landed at London's Heathrow Airport. One of the conveniences of traveling in Europe is how major airports like Heathrow are so well integrated with rail transportation in one "seamless, " user friendly operation. Next time I go there by train, however, I vow to take a lot less luggage (we had seven pieces left over from our Africa trip) which made it a struggle whenever we changed from one method of conveyance to another. It was like being back in the CNR freight sheds in Edmonton lugging heavy cargo, but at that time I was getting paid for the job. Nevertheless the staff in each case was helpful in helping us locate carts and dollies. (continued below)

The travelers rebellion has begun - it is time to expand our horizons and take on Europe the Intrepid way. There are no 45 seater coaches in sight and no inconvenient tourist hotels on the agenda. The itineraries do not attempt 23 countries in five days and the regimented pied piping guide with her orange flag is another traveler's bad dream. After months of research and careful planning, Intrepid is proud to announce the launch of Intrepid Europe.
Intrepid Europe offers no ordinary Europe experiences with over 30 new and exciting adventures throughout the region from Portugal to Croatia, from the roof of Europe to the shores of the Mediterranean and from the tranquillity of European village life to the lively cities of Madrid and Paris.
Intrepid's tradition of diversity reigns: the transport varies from walks through the Swiss Alps to horse-drawn wagons in Catalunya, the accommodation ranges from remote monasteries to Tuscan villas and our travelers will experience all things European from exploring fairytale castles to sipping sangria on Spain's lively southern beaches.
Imagine A Week in Tuscany for only US$685!
7 days, ex Lucca
Lucca, rural bike ride, Pisa, cooking lesson, hilltop villages, vineyards, Florence
Travel the Road to Budapest for only US$1375!
16 days, Vienna to Budapest
Explore, cycle and trek through Austria, Czech Republic, Poland, Slovakia and Hungary!
Explore Andalucia & Beyond for only US$1445!
15 days, Madrid to Lisbon
Granada homestay, Andalucia, Atlantic coastal hamlets, sailing, Seville, Evora farmstay
"14 years ago we started Intrepid with a trip to Thailand - launching our new Europe range is the most significant thing we have done since!" says Intrepid Travel co-founder and CEO, Darrell Wade. Intrepid has truly discovered the heart and soul of Europe and we can't wait for you to join us on the road to experience it all - and don't forget our Early Bird special! - 10% off all Europe trips departing prior to 31 May, 2004!
Find out more at http://www.intrepidtravel.com/europe.php
USA Media Contact:: Jacquie Burnside
Vice President, Intrepid Trave
Tel: 310 944 3901 Fax: 310 944 3911
Email: jacquib@intrepidtravel.com
International Media Contact:
Jen Bird, International Marketing Manager
Intrepid Travel
Tel: +61 3 9473 2616, Fax: +61 3 9419 4426
Email: jenb@intrepidtravel.com
Rail Connections (continued}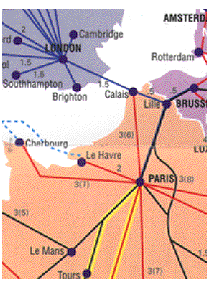 Connections were a snap! In what seemed like no time at all, after rumbling through London's suburbs and the lush, green English countryside, we were staring at the famous White Cliffs of Dover. Here at the clean, bright and spacious train station cafeteria I enjoyed perhaps the best fish and chips in my entire life. Fortunately it was an half hour before we began our "rock and roll" sea voyage, sitting shoulder to shoulder in the cramped, overcrowded quarters of a Channel Hovercraft. (Click for large Eurail map)
The weather was stormy, and the English Channel so choppy that, from inside our crowded Hovercraft looking out, it reminded me of an old Bugs bunny cartoon. You may remember the one where Sylvester the cat is viewing life from the inside of a clothes dryer, before he emerges looking like a puff ball. In retrospect, it was all part of the day's adventure. After all, we were lucky to be aboard, because due to labor trouble in France, the whole transportation situation was unclear. We were on pins and needles for a while, thinking that we might have to change plans. However common sense and good fortune prevailed, and we were soon heading into the terminal at the French port city of Calais.