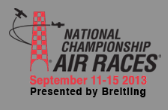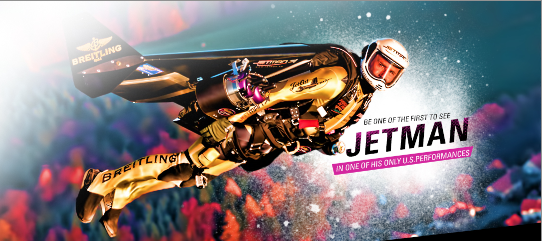 Andre Bernet
NATIONAL CHAMPIONSHIP AIR RACES
Blue Angels Set to Return for 2016 Event
Reno, Nev. – The Reno Air Racing Association (RARA) has released preliminary results for the 2015 National Championship Air Races and is projecting a profit of over $100,000. Results will be finalized at year-end. The original budget for 2015 called for a $630,000 loss, so the projected profit is very good news for the event.
Over 150,000 attended this year's event with pilots racing in six classes, an airshow featuring Tora Tora Tora!, a reenactment of the events of Pearl Harbor, and many other displays including static aircraft and the expanded Drone Zone.
Mike Crowell was named president and CEO by the RARA board of directors in February of 2015, bringing to the organization his extensive sales, marketing and operations background with Coca-Cola where he managed bottling facilities in the United States, Middle East and Asia. Crowell credits the work of the board, staff and many volunteers for helping bring the RARA operational costs into control this year in the interest of sustaining this event that provides over $70 million in economic impact to the community.
"The National Championship Air Races is not only the fastest motor sport in the world and an event that is followed by aviation enthusiasts from around the world, but it's a treasure for our community," said Crowell. "Our goal for this year was to look at this event like a business and operate in such a way that would ensure it is around for many years to come. We had to make some tough decisions to get our costs in line, but with the support of our board, staff, event chairs and dedicated volunteers, we were able to turn a budgeted $630,000 loss for the year into a $100,000 projected profit, which is exactly what we needed to do."
The 2015 event was a success in many other ways as well: there was tremendous support from sponsors, the weather was great, it was a safe event with no incidents and the many facets of the event drew people of all ages, young and old, and from literally every corner of the world.
Veteran Robert "Hoot" Gibson capped off the successful event by winning the coveted Unlimited Gold Race in Strega, unseating six-time winner, Steve Hinton, in Voodoo.
"To say we're very pleased with the preliminary results of the 2015 National Championship Air Races is an understatement," said John Agather, chairman of the RARA board of directors. "We're already planning for a great event next year and are excited to have the Blue Angels returning in 2016."
The 53rd National Championship Air Races will be held September 14-18, 2016. Tickets will go on sale after the first of the year.
RENO/ STEAD AIRPORT SEPTEMBER 11, 2013 - SEPTEMBER 15, 2013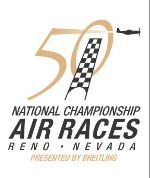 Named one of the 10 best Air Shows in the WORLD by USA Today!
The 50th annual event is the only closed course pylon racing event in the world, and is the world's longest running air race. Six different race plane classes battle just 60 feet from the ground, with the Unlimited and Jet classes reaching speeds over 500 mph! Besides the on-your-feet action of the races, spectators have close-up access to racing aircraft, pilots and crews in the "pits." There's a world-class air show, military display and demonstrations, aircraft display and great concessions. Experience the action of the "World's Fastest Motorsport!"
The world's first "jet-powered man" will take to the skies! Yves Rossy, known as "Jetman, " will make only two appearances in the U.S. and the National Championship Air Races is one of his stops! Made of carbon-Kevlar material, the "jetwing" is powered by four jet engines and can reach speeds of 150 mph. Jetman controlls the throttle with one hand and uses his body to steer, pitch and descend.
TICKETS:
Tickets officially go on sale for the 50th Annual National Championship Air Races on March 1st. Go to the website links below, or call their office (775)972-6663. Office hours are 8am until 4:30pm pst. Order early to ensure you have great seats.
Reno Air Races flying with a new name

Everyone is still going to call it the Reno Air Races, but for official purposes this popular event is now known as "TravelNevada.com Reno National Championship Air Races and Air Show Presented by Breitling."

The name change revolves around sponsorship money. The Nevada Commission on Tourism (NCOT) is theTravelNevada.com part. This is the official Nevada state travel and tourism website. They get to be in the official title of the event due to a three year sponsorship worth $600,000. Watch company Breitling, which has been a big sponsor for many years, is providing $200,000 toward the 2012 event. Though not a title sponsor with its name on a billboard, our own Reno - Sparks Convention and Visitors Authority (RSCVA) is contributing $150,000 to the 2012 Reno Air Races. A major sponsor is being sought for the 50th anniversary event next year, but has yet to be landed. Should none be secured, NCOT will continue with its support agreement through 2014.

The Reno Air Races have always been acknowledged to be a dangerous event, but is it just too risky to continue? Thusfar, the answers to this poll are heavily in favor of continuing the event. What do you think?

Sources: Reno Air Racing Association, Reno Gazette-Journal.
Reno Air Races
The 47th edition of the National Championship Air Races & Air Show, held at Reno/Stead Field, September 15-19, 2010 was greeted with sunny days and excited fans. All the week's Heat Races left the crowds wanting more on the build up to 'Gold Race Sunday'. Everything looked promising until Sunday when weather forced an unexpected change of events. High and gusting winds unfortunately caused cancellation of the Breitling Unlimited Gold race for the first time in the 47 year history of the Races. Steven Hinton of Bakersfield, CA, pilot of Race #7 "Strega" was declared champion of the Unlimited Class by qualifying position. The winds also forced stoppage of the T-6 Class Gold race and top qualifier, Dennis Buehn of Carson City, NV, received the T-6 trophy flying Midnight Miss III, Race #43.
Further race and air show details on the "World's Fastest Motor Sport" can be found at www.airrace.org
Brief and photos
By Ed Anderson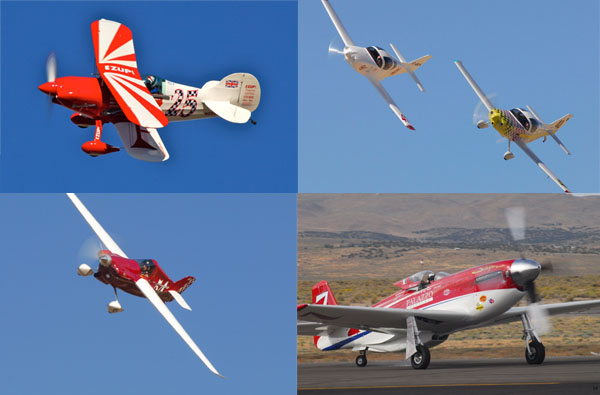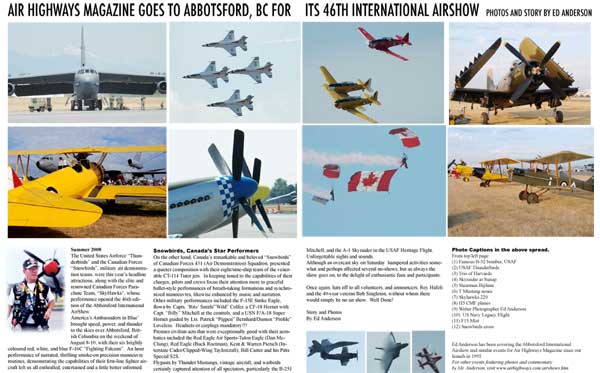 Summer 2008, Abbotsford, BC, Canada
The United States Airforce "Thunderbirds" and the Canadian Forces "Snowbirds", military air demonstration teams, were this year's headline attractions, along with the elite and renowned Canadian Forces Parachute Team, "SkyHawks", whose performance opened the 46th edition of the Abbotsford International AirShow.
America's Ambassadors in Blue' brought speed, power, and thunder to the skies over Abbotsford, British Columbia on the weekend of August 8-10, with their six brightly coloured red, white, and blue F-16C "Fighting Falcons". An hour performance of narrated, thrilling smoke-on precision manoeuvre routines, demonstrating the capabilities of their first-line fighter aircraft left us all enthralled, entertained and a little better informed.
Snowbirds, Canada's Star PerformersOn the other hand, Canada's remarkable and beloved "Snowbirds" of Canadian Forces 431 (Air Demonstration) Squadron, presented a quieter composition with their eight/nine-ship team of the venerable CT-114 Tutor jets. In keeping tuned to the capabilities of their charges, pilots and crews focus their attention more to graceful ballet-style performances of breath-taking formations and synchronized manoeuvres, likewise enhanced by music and narration.
Other military performances included the F-15E Strike Eagle, flown by Capts. 'Ritz' Smith/"Wild" Colfer, a CF-18 Hornet with Capt. "Billy" Mitchell at the controls, and a USN F/A-18 Super Hornet guided by Lts. Patrick "Pigpen" Bernhard/Damon "Profile" Loveless. Headsets or earplugs mandatory!!!
Premier civilian acts that were exceptionally good with their aerobatics included the Red Eagle Air Sports-Talon Eagle (Dan McClung), Red Eagle (Buck Roetman), Kent & Warren Pietsch (Interstate Cadet/Clipped-Wing Taylorcraft), Bill Carter and his Pitts Special S2S.
Flypasts by Thunder Mustangs, vintage aircraft, and warbirds certainly captured attention of all spectators, particularly the B-25J Mitchell, and the A-1 Skyraider in the USAF Heritage Flight. Unforgettable sights and sounds.
Although an overcast sky on Saturday hampered activities somewhat and perhaps affected several no-shows, but as always the show goes on, to the delight of enthusiastic fans and participants.
Once again, hats off to all volunteers, and announcers; Roy Hafeli and the 40-year veteran Bob Singleton, without whom there would simply be no air show. Well Done!
Story and Photos
By Ed Anderson
Photo Captions in the above spread.
From top left page:
(1) Famous B-52 bomber, USAF
(2) Navy Flight 435
(3) Trio of Harvards
(4) H5 Skyraider Supup
(5) Stearman 2236
(6) T Mustang nose
(7) Skyhawks 229 (8) H5 CMF planes
9) Writer Photographer Ed Anderson
(9) F15 Mist (
10) Snowbirds cross
Ed Anderson has been covering the Abbotsford International Airshow and similar events for Air Highways Magazine since its launch in 1995.
For other events featuring photos and commentary by Mr. Anderson, visit www.airhighways.com/airshows.htm
What a show! Flying events include Bud Granley's Harvard and Fouga Jet, Manfred Radius' Sail Plane, Eric Beard's Russian Thunder Yak 54, Ken Fowler's Harmon Rocket, Julie Clark's Mopar T-34, Gene Soucy's Showcat Biplane, Teresa Stokes' Wingwalker, Jim Leroy's Bulldog-Pitts and Tom Wade's Edge 540. Demonstration teams feature the famous CAF Snowbirds. Military Aircraft in flight include CF-18 and A-10 demos, plus F-15, B1-B bomber and an F-18. Watch for further reports as the big show approaches.
The Abbotsford International Airshow was a three day spectacular set in the heart of the beautiful Fraser Valley with Mt Baker as a backdrop. It is one of the premier shows in North America in terms of attendance and aircraft presence. In the 1970's, Abbotsford was designated "Canada's National Airshow" by the Government of Canada. The average attendance of the three day event is 200,000+ in addition we host representatives from approximately 25 countries, including Ambassadors, Consuls General, and Military Attaches.
Most, if not all the major airshow performers and military demonstration teams have performed as part of the Abbotsford Airshow including the CAF Snowbirds, USAF Thunderbirds, USN Blue Angels, Patrouille de France, Frecci Tricilori (Italy) Chile, and the Russian Knights. Over the years, it has also become a tradition for the Abbotsford Airshow to showcase much of the latest aviation technology and new aircraft. In 1986, Abbotsford became the first North American show to host five world-class demonstration teams. In 1989 and 1993, we saw the first U.S.S.R. contingent to visit North America with MIG 29's, an IL-76 and the AN-225, along with in 1992, the only Canadian appearance of the "Russian Knights" SU-27 demonstration team.
Our 37th Airshow Performers included: Sean Tucker, Air Combat Canada, Bud Granley, Manfred Radius, Delmar Benjamin, Julie Clark, Donn Richardon, Greg Poe. We have two demonstration teams booked which of course includes the Canadian Air Forces Snowbirds and for the first time, the F-104 Starfighters. Our request for a large military presence has been positively received by the US and Canadian Air Force. These requests include an AV-8B Harrier Demonstration, F-14, F-16,CF-18m A-10,KC-135 Air Refueling Demonstration and more.
ABBOTSFORD INTERNATIONAL AIRSHOW HISTORY
In 1962 a small group of Airshow Enthusiasts got together and decided to put on an air show. These people were members of the local Rotary Club and the Abbotsford Flying Club. These clubs sponsored the first show and went on to host a second show in 1963.
The show continued to grow in the 60's becoming a rather large event. At the close of the 1966 show it was decided that a special show would be planned for the 1967 centennial year. The Centennial Air Show Society was formed. Upon closing a successful 1967 show, members of the Centennial Air Show Society decided to continue on a more permanent basis. The Abbotsford International Air Show was born!
The Abbotsford International Airshow Society is a non profit society whose purpose is to produce a flying event that will be enjoyable entertainment for those that attend, promote aviation and operate financially so as to reproduce the event on an annual basis.
Each year hundreds of volunteers provide the talent and hard work while a variety of sponsors and donors provide the necessary funding for this special event. The volunteer contingent numbers some 1500. The volunteers are made up of many who volunteer directly to the Airshow organization and an additional 450 and up that come through the 30 or more service club organizations such as Rotary, Kiwanis, Salvation Army, Big Brothers, Scouts, Guides, Cadets, MSA Hospital and other community organizations. The Service Clubs over the last few years have received over $1,000,000.00 from the Abbotsford Airshow to distribute to the various causes that they support.
The Abbotsford International Airshow is a source of pride for Abbotsford and all of British Columbia and has been attended by of up to 250,000 people in a three day weekend. The Abbotsford Airshow will continue to enrich our community and thrill and inspire thousands of people each year.
http://www.abbotsfordairshow.com/

Air Highways Magazine wants to thank MTU Maintenance Canada, division of Daimler-Chrysler Aerospace and ICC- International Cargo Carriers for their hospitality. It was our greatest airshow experience ever. The sky was filled with flying ACES, as participants joined hands with the Royal Canadian Airforce to celebrate its 75th DIAMOND Anniversary.

Tradex: Exhibition centre of Mighty Fraser Country.
[Top of page] [Send mail] [Home]