FRON IGLOO TO CASTLE, FIVE EXOTIC HOTELS
By Grace Bello NBC May 23, 2013

Built in 1851, Peckforton Castle in Cheshire, England is the only intact medieval castle in the UK.
Cate Hatton, 31, wanted a fairytale wedding. So when she was considering wedding venues, the choice was clear: she needed to book a castle.
She opted for Peckforton Castle in Cheshire, England, the only intact medieval castle in the U.K. She told NBC News, "I wanted to get married there and feel like a proper princess!" But the medieval structure offers something for the non-matrimonial as well: it's also a fully functioning hotel that operates year-round.
From its sandstone walls to its suits of armor lining the hallways to, yes, its falconry and archery lessons, the Gothic chateau features antique touches that visitors can't get at any other hotel.
Co-owner of Peckforton Castle Chris Naylor told NBC News, "We have quite a number of rooms with four poster beds. You get the feeling of waking up as a princess."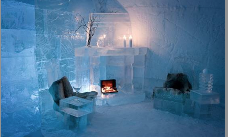 Sorrisniva Igloo Hotel offers the coolest of accommodations in a hotel carved from ice.
Sleep in an igloo
Located in Alta, Norway, this winter wonderland hotel is crafted out of snow and ice. Due to the weather-sensitive nature of the structure, Sorrisniva Igloo Hotel is closed for the season but reopens on January 6, 2014.
Guests flock to this igloo hotel not only for the once-in-a-lifetime ice hotel experience but also to glimpse arctic Norway and the northern lights.
While temperatures of the rooms themselves dip below freezing, visitors stay toasty with reindeer leather sleeping pads and hefty sleeping bags. The hotel also suggests that guests wear thermal sleeping attire to bed.
But not all of Sorrisniva Igloo Hotel is frosty. Visitors can warm up in the sauna and the outdoor hot bathtubs. And outdoorsmen and women, can venture out on a snowmobile safari, riverboat excursions, and dog sledding.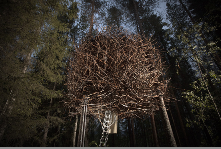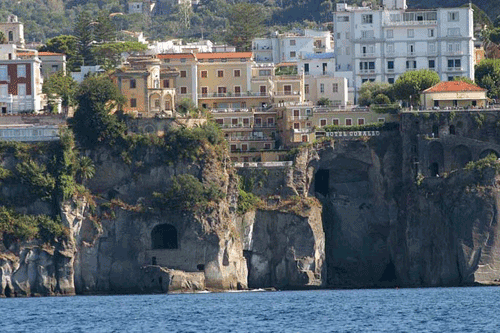 FAVORITE GLOBAL GETAWAYS: ITALY: Hotel Corallo is situated on the cliff above the sea, to the end of the coast of Sant'Agnello, full of Orange and Lemons trees, on the top of Marina of Sant Agnello , at few minutes walking from the centre, with on front the whole Neapolitan bay. The main Sorrento square "Piazza Tasso" is at 10 minutes by bus , or by taxi but it is pleasant a lovely walk. It enjoys a charming and quite position with large sunny terraces laden of flowers and the gulf of Naples , with the sky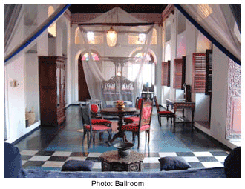 reflecting on the sea, it seems to enter every room and makes a special fascination for every Guest.More below
"Heaven is a Hotel" Time Magazine
ZANZIBAR, AFRICA: In the heart of Stone Town is a beautifully restored palace, once the home of one of the richest men in the Swahili Empire. Our hotel recreates the wondrous atmosphere and grandeur of the past by providing traditional, elegant accommodation. Spacious airy rooms, original stucco decor, ornately carved doors, antique furnishings, ceiling fans, and unique stone baths are featured throughout the hotel. 236 Hormuz Street, P.O.E. Box 3417, Zanzibar, Tanzania . Tel: 255-(4/0)747-423266 Fax: 255-(4/0)747-429266. E-Mail this magazine for a personal reference.
Kijani House, Lamu, Kenya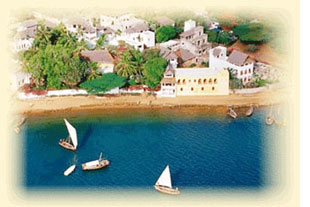 Comments by Cbhris Rowey
If you want a holiday on the edge of the Indian Ocean, listening to all the waves and looking out from your balcony on the dhows moved below and tropical flowers and foliage, kijani House is a good place. It is situated in a small maze-like Arabic style Village of Shella, and made up of three or four Arabic style houses around a large, wonderfully peacefully garden with two (One and half really) pools. It is owned and run by perfectionist Swiss &endash; every detail is perfect, from the antique local furniture to the mosquito coils under every dining table. There is a hotel boat and the food is excellent. If the set course meals are too large &endash; with second or third helpings politely offered- More->

E-Unoto Maasai Village, Tanzania
See video of this unique facility. Details

Send us a profile on your favorie getaway. E-Mail airhwy@dowco.com
Italy: Hotel Corallo ( continued)
From the wide and elegant coral coloured terraces it is possible to admire the splendid Sorrento Peninsula and entire Gulf of Naples. A unique locality where you can relax to the sun even during March. It is possible to spend time in a relaxing atmosphere where the silence is broken only by the flapping of the seagull' wings. The hotel has a private car parking, solarium, and a conference room for up to 150 people. Accordingly with our availability, for the next months of July, August,September and October, we offer particular discounted rates for Individual and Groups Clients.The rate will be fixed in consideration of the period of stay and required services. We thank you so much for the appreciated cooperation and we have pleasure in mailing our kindest regards. Giovanni
MORE RETREATS, GETEAWAYS AND HIDEAWAYS

The Ultimate Hideaway: http://www.ultimate-hideaways.com/