There will be ten venues in South Africa to be used for the World Cup include: Bloemfontein, Cape Town, Durban, Johannesburg (two), Nelspruit, Polokwane, Port Elizabeth, Pretoria, and Rustenburg.
WORLD CUP 2010 IN SOUTH AFRICA
by Helen C. Broadus
The FIFA World Cup is the football (soccer) world championship, contested by men's national football teams, and organized by FIFA, the international governing body for football. The championship cycle culminates every four years in a finals tournament to decide which country's men's football team will be awarded the FIFA World Cup title. The 2010 FIFA World Cup will take place in South Africa. FIFA decided to award an African nation the opportunity to host the World Cup as a recognition of the development of football on this continent. South Africa will become the sixteenth country, and the first-ever African country, to host World Cup matches. Only the host nation is given an automatic berth and all other teams, including the defending champion, have to qualify.
The first World Cup to be hosted in Africa will provide tremendous business opportunities for the travel and tourism industry of South Africa in particular and the African Continent in general. Up to five million tourists (with many from the African Continent) are expected to visit South Africa during the month-long sporting event and the Government of South Africa has committed fifty billion dollars (375 billion rand) in development projects for this effort.. Continued

2010 WINTER OLYMPICS IN BRITISH COLUMBIA, CANADA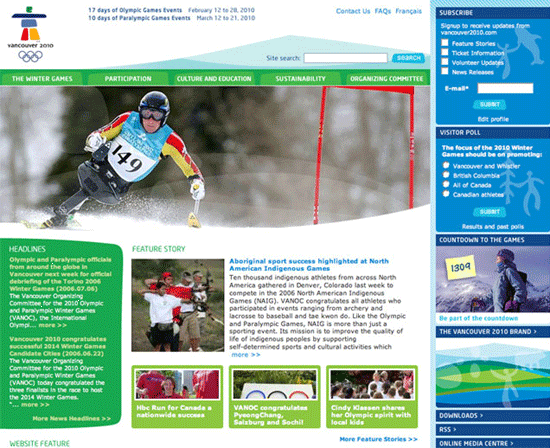 Above: Home page for Winter Olympics 2010, Vancouver- Whistler, BC.
INFORMATION
Vancouver, BC
Whistler, BC