Europe/ France / Discover Europe / Eurail Map/ German Tourists
London's 'seamless' air - rail connections
by Jerry W. Bird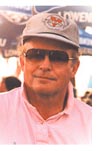 Oh, how I wish we had this type of seamless air rail connection in Canada!. Last spring's rail trip to Paris began shortly after we landed at London's Heathrow Airport. One of the conveniences of traveling in Europe is how major airports like Heathrow are so well integrated with rail transportation in one "seamless, " user friendly operation. Next time I go there by train, however, I vow to take a lot less luggage (we had seven pieces left over from our Africa trip) which made it a struggle whenever we changed from one method of conveyance to another. It was like being back in the CNR freight sheds in Edmonton lugging heavy cargo, but at that time I was getting paid for the job. Nevertheless the staff in each case was helpful in helping us locate carts and dollies.
Connections were a snap!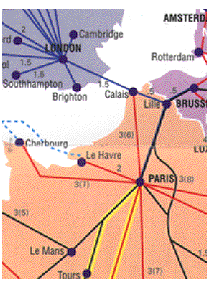 In what seemed like no time at all, after rumbling through London's suburbs and the lush, green English countryside, we were staring at the famous White Cliffs of Dover. Here at the clean, bright and spacious train station cafeteria I enjoyed perhaps the best fish and chips in my entire life. Fortunately it was an half hour before we began our "rock and roll" sea voyage, sitting shoulder to shoulder in the cramped, overcrowded quarters of a Channel Hovercraft. (Click for large Eurail map)
The weather was stormy, and the English Channel so choppy that, from inside our crowded Hovercraft looking out, it reminded me of an old Bugs bunny cartoon. You may remember the one where Sylvester the cat is viewing life from the inside of a clothes dryer, before he emerges looking like a puff ball. In retrospect, it was all part of the day's adventure. After all, we were lucky to be aboard, because due to labor trouble in France, the whole transportation situation was unclear. We were on pins and needles for a while, thinking that we might have to change plans. However common sense and good fortune prevailed, and we were soon heading into the terminal at the French port city of Calais.
UK Leading Immigration Specialist: For genuine and reliable information on UK visas including work permit, etc, just contact UK leading immigration specialist at www.the-london-link.com and fly to your dream destination. Hurry, visit now! http://www.the-london-link.com

"Aerial Highway" Critical for poor countries:

From Airline Industry. Without a rational "Aerial Highways" system lifting tourists in and flying goods and services out to global markets, the world's poorer countries will be "sentenced to abject poverty," said the head of a development agency. Speaking this week to European aviation chiefs assembled in Oslo, Lelei LeLaulu, president of Counterpart International, observed terrestrial highways, roads and bridges are recognised as essential components of infrastructure responsible for turning new frontiers into thriving communities as goods and commodities were transported to markets. More->
Now at Stuttgart Airport and the New Exhibition Centre: Mövenpick Hotel Times Two.. details: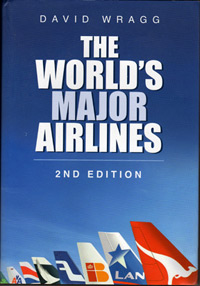 World's Major Airlines. Who flies where and when?
With our biggest aviation edition in ten years well underway, serendipity played its familiar role in my life when I received THE WORLD'S MAJOR AIRLINES by David Wragg. It arrived by mail last week courtesy of the MBI Publishing, St. Paul, MN and was presented by John Wurm, Publicist for Military and Aviation. I plan to write this book review in installments, since my first reading was to get an overall position on how valuable this timely and well researched book will be in my evaluation of Africa's airlines and others serving the continent. Here are some comments from MBI that help set the stage. "Today there are so many airlines operating throughout the world that even the most knowledgeable enthusiast can soon become confused about which airline flies from where to where.
This new, fully illustrated edition has been revised and updated to include the major advances in the aviation industry since 1998.The author has added introductions for each nation, summarizing its history of civil aviation and placing the subsequent entries in context. In the World's Major Airlines David Wragg provides more than 500 entries. Listed in alphabetical order by country is every airline in the world which has more than five aircraft with more than 19 seats,or equivalent cargo capacity. Comprehensive information is given on the name, history, bases, aircraft operated, routes flown, number of passengers and tonnage of cargo flown annually, and much other useful and interesting data. The World's Major Airlines is an invaluable source of reference for aviation enthusiasts, travelers and those working within the industry." More to come.

Europe Hotels toBook : http://www.tobook.com
For online hotel reservations in Amsterdam, Barcelona, Paris, Rome, London, Berlin, Madrid and many other cities in Europe.
.Amsterdam Hotels toBook: http://www.tobook.nl
Search and book hotels in Amsterdam and all the major cities in the Netherlands.