Canada Aviation and Space Museum Officially Launched
Ottawa: The Canada Aviation and Space Museum hosted Canadian Astronaut, Dr. Robert Thirsk today, as he enthralled over 300 local school children with a special presentation about his recent space mission. This occasion marked the first event hosted at the Museum under its new name: the Canada Aviation and Space Museum. This initiative is the result of a dynamic new partnership between the Canada Science and Technology Museums Corporation (CSTMC) and the Canadian Space Agency (CSA).
"As one of Canada's national cultural institutions, we are pleased to announce this partnership with the CSA that will generate dialogue and engagement for visitors of all ages," said Denise Amyot, President and CEO of the Canada Science and Technology Museum Corporation.
Local students experienced a video presentation by Dr. Thirsk, a chance to become special reporters for the Museum's Canadians in Space special-edition newspaper, and fun crafts and aerospace activities. The Canada Aviation and Space Museum also unveiled the first phase of its From Air to Space exhibition, featuring a select assortment of Space-related artifacts.
"After a six-month spaceflight on the International Space Station," said Dr. Thirsk before taking the stage, "I am delighted to be speaking at the Aviation and Space Museum today where we are also celebrating the Museum's expanded mandate and commitment to showcasing Canada's accomplishments in space. While onboard the International Space Station, I had opportunities for personal reflection and I am convinced that exploration, innovation and advanced education are important values for our nation to uphold.''
"Today was a fitting way to launch the new Canada Aviation and Space Museum," noted Stephen Quick, Director General of the Canada Aviation and Space Museum. "It was an honour to have one of Canada's finest astronauts with us on this special day, and it was clear that the students were having the time of their lives."
Dr. Thirsk became the first Canadian astronaut to fly a long duration expedition mission aboard the International Space Station where he lived and worked in space for 188 days. From May to December 2009, Dr. Thirsk served as a member of Expedition 20/21 and assumed responsibilities for the maintenance and repair of the ISS, while conducting experiments on behalf of Canadian and international researchers.
The Canada Aviation Museum has changed! Now the Canada Aviation and Space Museum, learn all about the wonder of flight, from the Silver Dart to the International Space Station. It is one of three museums of the Canada Science and Technology Museums Corporation and is located at the intersection of the Aviation and Rockcliffe Parkways, just ten minutes from Parliament Hill. See the Museum's website for hours of operation and membership details.
General information: 613-993-2010 or 1-800-463-2038 or aviation.technomuses.ca
Media Contact: Elizabeth Millaire
613-991-3834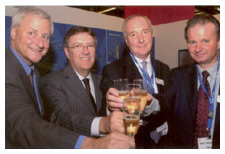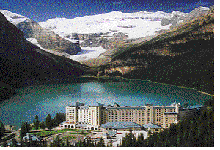 VANCOUVER HOSTS 16TH WORLD ROUTES FORUM IN 2010
Above left: Larry Berg, CEO, Vancouver Airport Authority, says, "Routes 2010 will give our marketing team a key vehicle for promoting new routes for both passengers and cargo. Not only will delegates be able to enjoy the facilities and cultural legacies of the Olympic Games, but they will also be able to experience first hand the new terminal facilities and Canada Line rapid transit link to downtown." More. Photo-right: Photo Stories.

Flight Network - Search for Airfare Bargains
Travelers have been saving 10 - 70% on cheap flights from Canada to the USA and International Destinations since 1998. Go

Corpac announces premium airline service
Corpac Canada Ltd. of Calgary, introduces Corporate Jet Air, the brand name of their new premium business class airline service between Calgary and Toronto. Corpac Canada Ltd. has over 30 years of history in aviation. Corporate Express, another brand in the Corpac family flies between Calgary and Fort McMurray

WANTED: A volunteer to assist with BOOK REVIEWS on topics relating to aviation, transportation, travel and tourism destinations around the world. We constantly receive requests for book reviews and would love to find someone who would be dedicated to that important facet of our business. If you are qualified and interested, please e-mail - airhwy@dowco.com . Airforce Books
UK Leading Immigration Specialist: For genuine and reliable information on UK visas including work permit, etc, just contact UK leading immigration specialist at www.the-london-link.com and fly to your dream destination. Hurry, visit now! http://www.the-london-link.com
High Speed Networks Integrated with Airports
High speed trains refer to passenger rail systems running at operational speed between 200 and 300 km/h. They have been developed in Japan, France, Germany, Spain and South Korea. Another high speed system in Taiwan, linking Taipei to Kaohsiung, is scheduled to be completed in 2006. The high speed train passenger system era truly originates from Japan. More->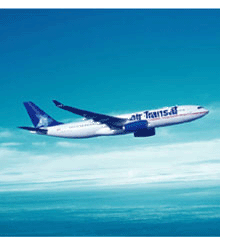 "Aerial Highway" Critical for poor countries
From Airline Industry. Without a rational "Aerial Highways" system lifting tourists in and flying goods and services out to global markets, the world's poorer countries will be "sentenced to abject poverty," said the head of a development agency. Speaking this week to European aviation chiefs assembled in Oslo, Lelei LeLaulu, president of Counterpart International, observed terrestrial highways, roads and bridges are recognised as essential components of infrastructure responsible for turning new frontiers into thriving communities as goods and commodities were transported to markets. More->
Wing Aviation Expands Charter Fleet

Fly Air Transat from Canada to 90 destinations in 25 countries
As editors of Air Highways and Africa Travel magazine with a varied agenda of events, we have flown Air Transat from Vancouver to London on our regular to various destinations in Africa and have been pleased with the service, price, reliability and convenience of their flights. Air Transat specializes in charter flights from several Canadian and European cities to vacation destinations, mainly in the south during the winter months and in Europe and Canada during the summer.
Etihad Airways flights to Dublin

Alaska Airlines Boeing 'Combi' Alaska Airlines introduced two Boeing 737-400 "combi" aircraft to its fleet to improve passenger and cargo service in the state of Alaska. The larger airplanes -- converted to transport passengers in the back and main-deck cargo in the front -- have more cargo capacity, more-advanced flight-guidance capabilities and more-comfortable passenger cabins than the 737-200 combis they replace.
United Aviation: New executive charter announced for Toronto's Pearson Airport

Profiles of International Air Carriers: See Sidebar. Airlines and airports are invited to provide news releases, route maps, security and background information: airhwy@dowco.com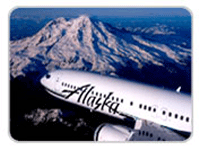 From Northern Skies to Southern Shores and Desert
Having enjoyed a lifelong fascination with the vast and rugged North Country and the Alaska-Yukon area in particular, the story of Aaska Airlines is particularly intriguing. It is as romantic as any profile of energy, initiative and the rewards of following one's dream. As it affects the lives of those who lived in Northwestern Canada and the USA, the modern age of exploration started with the famous bush pilots, who pioneered the Air Highways, carrying every type of cargo imaginable, often performing daring deeds of rescue. Several of this illustrious group started their own airlines and became living legends. Watch this space for our version of the Alaska Airlines Story, plus constant updates on its current services along with news about its sister company, Horizon Airlines. You can get the full story, including some excellent destination profiles on the following web site: http://www.alaskaair.com
COYNE AIRWAYS LAUNCHES NEW BOEING 747 FREIGHTER SERVICE EX LONDON AND COLOGNE TO CASPIAN