The Business Triangle - coming soon.
EMIRATES SKYCARGO LANDS TOP HONOUR FROM AIR TRANSPORT WORLD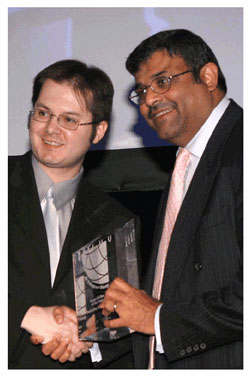 Airline Receives Award for Innovation and Record-Breaking Performance
Photo:Ram Menen (right), Emirates Divisional Senior Vice President, Cargo, accepts the "Cargo Airline of the Year" award from Air Transport World Senior Editor Aaron Karp (left) at the 2007 Airline Industry Achievement Awards gala.
DUBAI, U.A.E. Emirates, one of the world's fastest growing international airlines, has been awarded "Cargo Airline of the Year" by the editors of Air Transport World, a leading monthly magazine serving the global airline industry.
"Emirates is delighted to win the esteemed ATW Cargo Airline of the Year award and be recognized by experts in the airline and cargo industry," said Ram Menen, Emirates Divisional Senior Vice President, Cargo. "At Emirates SkyCargo, we have aimed to achieve the highest standards of product quality and customer care. We are honoured that Air Transport World has identified us as one of the top airlines that has characterized itself through outstanding performance and service."
Last year, for the first time in its history, Emirates SkyCargo carried more than one million metric tonnes of cargo and generated more than $1 billion in revenue. "Beyond the strong growth rate, SkyCargo is distinguished by its ongoing innovation in air cargo transport, developing systems and strategies that reverberate beyond Dubai," Air Transport World editors said.
EMIRATES WINS BEST AIRLINE AWARDS
DUBAI, UAE: When it comes to entertainment in the sky, Emirates airlines is the world's best. The Dubai-based international airline recently won a series of awards, recognizing it as the world's best airline in various categories, including Best Airline Inflight Entertainment 2005 by Skytrax Research. The World Inflight Entertainment Awards are based on over one-million (1,011,254) response to the IFE Survey carried out by Skytrax between June 2004 and May 2005. The survey measures different aspects of passenger satisfaction for each airline's Inflight Entertainment standards. This independent survey is regarded as a primary benchmarking tool for Passenger Satisfaction levels of airlines throughout the world.
Best Inflight Entertainment Awards - 2005
1 Emirates (ICE system)
2 Singapore Airlines (KrisWorld)
3 Virgin Atlantic (Vport)
4 Cathay Pacific (StudioCX)
5 Malaysia Airlines (System 3000i)
Emirates has also recently been recognized as Best Middle Eastern Airline at the prestigious Business Traveller Awards 2005 at London's Hilton Park Lane Hotel. In addition, the airline has won Air Cargo Carrier of the Year from International Freighting Weekly and Best Cargo Carrier Middle East (3rd year running) from Asia Freight and Supply Chain Awards.
While Emirates does not presently operate directly from a Canadian airport, its renowned service to destinations in the Middle East, Africa, India, Pakistan and Asia Pacific can be enjoyed by Canadians principally through daily connections at London's Heathrow or New York's JFK airports to Dubai.
For Further Information, Contact:
John McGrath
Marshall Fenn Communications
416-876-3945 johnmc@marshall-fenn.com
Associations that impact Economic Development, Travel, Trade, Tourism and Hospitality