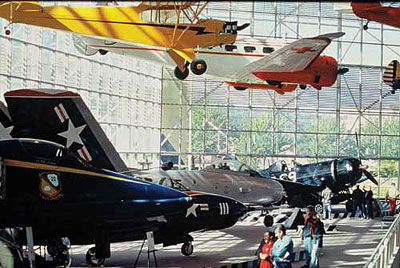 Boeing Field Air Museum
(Historic company profile and musuem feature to come)

Boeing Aircraft Company at Moscow Air Show



MOSCOW: Boeing displayed a Boeing Business Jet (BBJ) and a large scale model of its newly conceived airplane, the Boeing 7E7, at the MAKS International Aviation & Space Salon (Moscow Air Show) in Zhukovsky. Designed for corporations, governments and VIP customers, the BBJ is a high-performance derivative of the Boeing Next-Generation 737-700 jetliner that can fly more than 11,110 kilometers (6,000 nautical miles).
The Boeing 7E7 is a super-efficient airplane jetliner on which the company has focused its new commercial airplane product development efforts. The 7E7 will carry 200-250 passengers on routes up to 14,814 kilometers (8,000 nautical miles).
The Boeing Moscow Air Show exhibit will showcase several products and services from the Boeing Commercial Airplanes and Integrated Defense Systems business units, including models of the International Space Station, Sea Launch rocket and other commercial jetline
Virgin Blue Takes Delivery of a New Boeing 737
Virgin Blue, the low-fare airline based out of Brisbane, Australia, continues its fleet expansion plans with the delivery of another Boeing [NYSE: BA] 737-800. Yesterday marked the first delivery of the 10 direct purchase 737s ordered earlier this year. The carrier's 10-year growth plan includes 737s equipped with performance-enhancing winglets.
Virgin Blue operates an all-Boeing fleet that includes 33 Next-Generation 737s and one Classic 737. The airline also has announced its interest in flying to regional destinations including New Zealand and several South Pacific islands. Pictured is a Virgin Blue 737-700 airplane from an earlier delivery.
Contacts: Lewis Brinson, (206)766-2116 office, (206)898-9521 mobile, lewis.b.brinson@boeing.com
Ken Morton, 61-2-9086-3330, ken.morton@boeing.com
Photo information: Ken DeJarlais, kenneth.r.dejarlais@boeing.com

Visit USA
Snohomish County, WA

Our editors thank you for the Presentation:
The Future of Flight Aviation Center and Boeing Tour project is the creation of a 73,068 square foot facility consisting of a 58,312sf Aviation Gallery and Conference Center and a 14,756sf Boeing Tour Center at Paine Field Airport in Everett, Washington. The Snohomish County PFD is contributing 16% of the $21.7m project cost and the Future of Flight is projected to open Oct. 2005. More details to come. Visit the web site. See Snohomish County