Footloose in Vancouver's West End and Stanley Park
by Jerry W. Bird

Having been footloose in Vancouver, British Columbia since the days of streetcars, interurban trams, White Lunch Cafeteria on Hastings, Woodwards Toyland and Union Steamships, I consider the West End my special domain. Morning, noon or night, it's always an inviting place for rubber-neckers, casual strollers, browsers, grazers and window shoppers. A sea of umbrellas one moment, local denizens decked in everything from beachwear to high fashion the next. It's a passing parade, minus the 76 trombones-just waiting for you to follow along.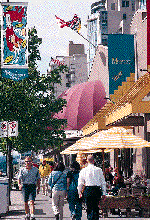 Recently, we walked Vancouver Harbour's new stretch of Seawall for the third time since the massive construction project began. From historic Gastown, we headed west to English Bay via the Pan Pacific Hotel and Canada Place Cruise Ship Center, Coal Harbor Marina, Cardero's and the newly renovated Westin Bayshore Resort Hotel. Next time we'll continue the full stretch to Stanley Park (another 5 minutes) and beyond. What a marvelous change with all the landscaping, shops and upscale condos. I made my rendezvous at the Coast Hotel at English Bay in exactly 45 minutes, allowing for a leisurely pace.
Defining the West End's boundaries.
In my opinion, Vancouver's West end extends from Burrard Street to English Bay, taking in Coal Harbor, Stanley Park, Lions Gate Bridge, English Bay, Sunset Beach and the entrance to False Creek at Burrard Bridge. On a tight schedule? Save a few minutes via SkyTrain, from Waterfront Station (by Canada Place) to Burrard Station, with transfers to BC Transit buses. Otherwise it's more fun walking, with lots to see and do.
From cruising the fjords to cruising the streets
My first view of Vancouver's West End was from the deck

of the Princess Louise, one of CPR's fleet of steamships that plied the Inside Passage to and from Skagway Alaska. What better introduction to a great city after four days of wilderness, waves and whales, than the vision of Lion's Gate Bridge and Stanley Park. So, if you've disembarked from one of this year's 250 Alaska Cruises, or gone footloose from a convention at Canada Place, the West End begins half a block away.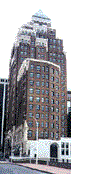 On the corner, the Marine Building stands like a royal guard, its 1930s art deco facade every bit as elegant as it was I attended the Faulkner Smith Art School there years ago as an aspiring cartoonist. Once touted as Vancouver's skyscraper, tallest in the British Empire at the time, it's now dwarfed by the glass towers of the city's growing financial district. On the Marine Building's ground floor is the Imperial Chinese Seafood Restaurant, one of the classiest oriental dining spots in town, graced by a sweeping harbor view, with float planes, helijets and marine craft of every description. A snowcapped mountain backdrop completes the panorama.
Here at the foot of Burrard Street, you might start your trek after a quick stop at at the Tourism Vancouver Info Center, leaving with some maps and brochures. And as you look at the float planes landing from Victoria, Nanaimo and points beyond, you'll spot a new stretch of seawalk that links the downtown's waterfront hotels with Stanley Park, English Bay and False Creek. We took the walk and viewed the upscale housing developments near the Westin Bayshore Hotel and Coal Harbor. Naturally, we stopped at the Marina and Carderos, a new waterfront restaurant that's got class, a reputation for great food, and a million dollar view.
Lotus Land's laid-back lifestyle
At close to two million population, Greater Vancouver is Canada's third largest city, yet its unique West End community has retained that same visitor-friendly, small town atmosphere I've always enjoyed. That's why our staff does most of its banking, entertaining, routine business and shopping there. Aside from a bevy of bookstores, the West End's Joe Fortes Library on Denman Street is my favorite spot for researching articles. Adjacent to King George High School, the complex houses a community center, and for those who yearn to strap on the blades ... an indoor ice skating rink . Several local figures skaters were proud to perform a "spinnerama" for Air Highways camera.
Head for the nearest water or green space and you'll see that West Enders are more into tennis, water sports and physical fitness than their fellow Canadians. They read, shop and dine out more often too ... and take longer coffee and cappuccino breaks. Small wonder Starbucks and Pastels dominate 3 corners at Robson and Thurlow, or that the local Bread Garden is Denman's top spot. Next to Manhattan Island, Vancouver's West End is the continent's most densely populated residential area, yet one of its most relaxed, laid back inner-city communities.
Speaking of Manhattan ... a gingerbread apartment block of that same name still stands at the above-mentioned corner. It houses a secluded Italian cafe and a neat bookstore, built for those with narrow shoulders. Rivaling Hong Kong and Rio de Janeiro as the world's most beautiful physical setting, Vancouver has become Hollywood North, ranking third after LA and New York as a film and TV production center. The West End alone has more unique locations and beautiful backdrops than anywhere else in the city.
Visitors are attracted to the city for the same reasons most residents remain ... a spectacular outdoor setting, a clean and safe urban environment and a culture that celebrates and invites diversity. For centuries this area was home to the Coast Salish people of the Musqueam, Kwantlen, Tsawwassen and Capilano bands as reflected by the totems standing proudly in Stanley Park. It was these tribes who greeted Captain George Vancouver in 1792. His comment must have referred to the forest and mountain backdrop of Burrard Inlet., "This is the most lovely country that could be imagined. "I n the late 1880s, Vancouver's first mayor drafted a petition to lease a 1,000 acre military reserve from the federal government ... an area that later became Stanley Park. Named for Governor General Lord Stanley, it's Canada's largest urban park, with its string of inner-city beaches and miles of walking trails that skirt Beaver Lake and Lost Lagoon, with its fountain of dancing waters and graceful swans.
Stands of stately Douglas fir, cedar and hemlock grow in profusion along with a jungle-like growth of ferns. Open 365 days a year, the Vancouver Aquarium in Stanley Park features killer and beluga whales, dolphins and sea otters ... a total of 650 species. There's underwater whale viewing and outdoor terraces (Information line 604-268-9900).
One of my top perennial attractions is Theater Under the Stars, where local performances of Broadway shows and operettas fill the summer evenings with song at Malkin Bowl. The surrounding gardens, statues and 1920s Pavilion are as beautiful as ever. Returning to Vancouver after a twenty year absence, this is one venue that continues to remind me of Stanley Park at its greatest. There's no better place for a picnic than Stanley Park, with a profusion of specialty shops, food markets and delis on nearby streets.
The inner-city's most popular loop
On foot or breezing along on skates or a rented bicycle, the 6 mile route around Stanley Park seawall is a stimulating experience, a feast for the eyes, and a mighty lift for the soul. You can start at either end. From the Georgia Street entrance, you pass such landmarks as the Vancouver Rowing Club, Deadman's Island, Coal Harbor, the totem poles, the nine o'clock gun, Brockton Point lighthouse, Lumberman's Arch, Prospect Point, Siwash Rock, Third Beach, and Second Beach.
Leaving the park at English Bay, the seawall continues on to Sunset Beach, Vancouver Aquatic Center and Burrard Bridge, connecting to a network of urban trails on both shores of False Creek, site of Expo '86. Stanley Park Cycle is on Robson near Denman, Bayshore Bicycle & Skate Rentals has locations at both entrances to Stanley Park. Give yourself plenty of time, from 2 to 4 hours.

Westin Bayshore Resort Hotel: We had the privilege of being invited along with the who's who of Vancouver, to help the Westin Bayshore celebrate its official reopening after a multi million dollar renovation. As a follow-up, we enjoyed a seafood dinner at the Seawall Bar & Bistro, on the site of the former Trader Vics. The Seawall offers one of the world's most breathtaking panoramas - Coal Harbor Marina and Stanley Park, Alaska Cruise ships pulling into dock at Canada Place, float planes and helijets taking off, and a splendid new waterfront promenade. The Bayshore has been a favorite for decades; now now there's even more reason to recommend this great inner city resort hotel. Call 800-WESTIN-1 or visit or www.westinbayshore.com.

The Sands of English Bay: From English Bay and adjoining beaches, you can see a panorama of tanker ships and freighters awaiting unloading by a fleet of tugboats, sailboats of every description, kayaks, canoes, power boats, float planes, helicopters, wind surfers and paragliders. Multicolored water taxis skim the waves from the Aquatic Center on Beach Avenue to Vancouver Maritime Museum at Kitsilano Point and on to Granville Island. Over 3,000 foreign ships dock at Vancouver's sheltered port each year &emdash; and all can be seen coming and going from one of many West End vantage points. Footloose travelers from near and far, agree that the West End's best known rendezvous for the young and young at heart, is the corner of Davie and Denman Streets.
Here, facing English Bay, stands the Sands by the Sea, a unique family hotel that's been a popular meeting place for three decades. Besides good food and tall drinks, the Sands' Bayside Lounge provides a front row seat to numerous year round activities &emdash; the Symphony of Fire, the New Year's Polar Bear Swim, Summer Sea Festival and Christmas Carol Ship Parade to name a few. The Sands Hotels' resort atmosphere appeals to families, business travelers and vacationers alike. Speaking of resorts, the owners have since added three Okanagan hotels and resorts to its growing family, each offering the same high degree of service and attention to detail.
1975: The Sands by the Sea at Vancouver's English Bay is the flagship of RPB Hotels & Resorts, its 121 guest rooms and public areas have been upgraded constantly by Craig Prystay, General Manager.
1980: The Bayside Lounge at the Sands Hotel was created as one of the inner-city's prime beach front dining and meeting spots, with the hotel's Fireside Room providing a convenient alternative.