Undersea Adventures: Explore Famous Shipwrecks and Sinkings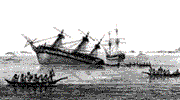 FIRST-EVER MANNED SUBMERSIBLE DIVES TO BISMARCK
SEATTLE, WA: She was Germany's most powerful battleship, so feared that the British Navy put every available warship to sea to intercept and sink her. Defeated in a fiery battle in May of 1941, the Bismarck now rests on the ocean floor a few hundred miles off the coast of Ireland, unseen by human eyes for 60 years. Now, a handful of adventurers can dive to the Bismarck with Zegrahm Expeditions and Deep Ocean Expeditions, participating in the first-ever manned submersible voyage to see the infamous German warship.
Discovered by Dr. Robert Ballard in 1989 via remote vehicle, the Bismarck lies at a depth of approximately 15,000 feet. Upright in a field of undersea volcanoes, she is surrounded by a debris field littered with the machinery of war, including massive gun turrets. Using the MIR I and II, the same deep-diving submersibles utilized in Titanic dives, Operation Bismarck participants will descend into the cobalt depths of the North Atlantic to see what is undisputedly the most famous battleship in the world.
Slated for June 2001, the journey to Bismarck begins in Ireland, where passengers embark the MIRs' support vessel, Akademik Keldysh, their home for the duration of this 14-day program. From Cobh (near Cork) Ireland, the Keldysh will travel approximately 380 miles southwest to the wreck site of the Bismarck. Here, the highly-trained crew will prepare the deep-diving submersibles as a team of lecturers and leaders brief participants on their dive experience.
Expedition members will participate in one dive, estimated to last from 11-12 hours. According to film footage obtained via remote vehicle, the Bismarck is surprisingly intact and shows well the damage wrought by the pounding of British shells. Part of the stern section has broken away and the main gun turrets are missing (gun turrets now reside in the debris field). Many of the smaller guns, including the anti-aircraft guns, are still in place. Although the bridge area was largely blown away, the remaining superstructure is intact, though obviously damaged. Teak planks are still visible on the deck.
Operation Bismarck is only one of four exciting submersible programs offered by Zegrahm in 2001. In July, the deep-diving MIRs will descend 2.5 miles beneath the Atlantic to Titanic, the most famous shipwreck in the world. An 11-day program, Operation Titanic is priced at $35,500 per person, and begins near St. John's, Newfoundland. On previous dives, participants have seen both the bow and stern sections of the ship as well as the bridge, the grand staircase, the giant propellers and the surrounding debris field.
Those interested in older wrecks can board the Remora 2000 submersible and view Ancient Shipwrecks of the Mediterranean. Zegrahm will offer three seven-day programs in September 2001, priced at $9,950 per person. Participants will travel to Marseilles, France, and dive to two separate shipwreck sites, both dating from the Roman era. The Remora 2000, a "mid-range" submersible used for more shallow dives features a transparent, all-acrylic pressure hull with 300-degree views, perfect for viewing the ancient artifacts and astonishing sea life found in this region.
Zegrahm also offers a chance to join a history-making deep-dive to the Real North Pole aboard the MIR submersibles. Slated for August 2001, this 17-day program begins in Oslo, Norway, where passengers board the nuclear icebreaker Yamal and set sail for the top of the world. Polar bear, walrus, icebergs and polar history abound en route. At 90 degrees north, the real adventure begins as participants descend through 14,500 feet of Arctic waters to be the first people on earth to touch down at the Real North Pole.
OPERATION BISMARCK AT-A-GLANCE
- 14-day program departing from Cork, Ireland
- June 11 - 24, 2001
- First-ever manned submersible dive to Bismarck (15,000 feet below North Atlantic surface). One dive per participant.
- Price per person: US $37,500 (non-dive companion rates available)
- Participants travel aboard scientific support vessel, Akademik Keldysh
- Lecturers include the world's deep-sea experts
ZEGRAHM EXPEDITIONS
Over 10 years of expert-led adventure cruises, tours and submersibleexpeditions to the far corners of the world (Antarctica, the Arctic, the South Pacific, Asia, Africa, Titanic, Bismarck and more).
CONTACT INFORMATION: 192 Nickerson Street #200, Seattle, WA 98109 USA;
phone (206) 285-4000 or (800) 628-8747; fax (206) 285-5037; e-mail zoe@zeco.com; www.deepseavoyages.com
Adventure travelers can explore a host of famous shipwrecks with Zegrahm Deep Sea Voyages ... a series of 8-day submersible expeditions to view the H.M.S. Breadalbane, a 500-ton sailing ship that sank in 1853. The Breadalbane sits upright and beautifully preserved on the sea floor 350 feet below the Arctic ice cap. Only four people - all scientists - have ever seen the submerged Breadalbane. Photographically stunning, the Breadalbane hangs as if suspended in the Arctic's gin-clear waters. Two of her masts are still upright and beautiful orange coral has attached to her wooden hull.
* Per person price for the H.M.S. Breadalbane Under the Arctic Ice Expedition is US $9,980 double occupancy. Multiple departure dates are available. Zegrahm also offers Operation Titanic, an undersea voyage to the most famous shipwreck in the world, departing August 19 and 29, 2000. These 12-day expeditions cost US $35,500 per person, which includes first-class meals and private accommodations.
Operation Titanic will use the high-tech, $25 million submersibles, MIR I and II, the same deep-diving submersibles used by James Cameron in his blockbuster movie, Titanic.
Passengers will live aboard the "mother ship" Akademik Keldysh, Russian scientific research vessel. Upon boarding the submersibles, passengers will descend at a rate of 100 feet per minute. Once the ocean floor is reached, they'll spend approximately 5 hours exploring the wreck site.
*Passengers can expect remarkable views of Titanic's bow, as well as the bridge, officers' quarters, propeller, staircases and mile-long debris field. No salvaging will take place.

Zegrahm Expeditions also offers a chance to explore WWII shipwrecks found in the warm waters of the South Pacific.
Zegrahm's Faces of Melanesia expedition, October 13 - 30, 2000, will visit Iron Bottom Sound, where large numbers of Japanese and American wartime vessels lie beneath the placid seas of the Solomon Islands.
This itinerary also includes a stop at Espiritu Santo Island, Vanuatu (formerly known as the New Hebrides), home to the world's largest accessible wreck dive, the USS President Coolidge.
Scuba divers here will see guns, helmets, gas masks and other military trappings left helter-skelter aboard the wreck, now colonized by colorful coral and darting tropical fish. *Price for this South Sea adventure, which includes stops in Papua New Guinea, the Solomon Islands, and New Caledonia, begins at US $7,990 per person.
Zegrahm's Islands of Diversity expedition through the Philippines, April 2 - 19, 2000, features a stop at Subic Bay, home to 30 shipwrecks, including the scuttled USS New York and the freighter El Capitan, both alive with coral, sponges, and lionfish. Price begins at US $7,990 per person.
Expeditions are LED BY INDUSTRY EXPERTS, NOTED SCIENTISTS, LECTURERS and HISTORIANS.
Seattle-based Zegrahm Expeditions is a 10-year old adventure travel company specializing in expert-led adventure cruises, tours and submersible expeditions to remote locations around the world.
For reservations, a brochure, or further information, contact Zegrahm Expeditions at 1414 Dexter Ave. N, Suite 327, Seattle, WA 98109 USA. Phone: (206) 285-4000 or (800) 628-8747. Fax: (206) 285-5037.
Access Zegrahm Expeditions on the Internet at www.zeco.com or send
e-mail to zoe@zeco.com. Also Air Safaris.