Adventures in Travel Expo/ Luxury Show
Next Venues: Dallas. TX and San Francisco, CA

http://www.adventureexpo.com
mailto:airhwy@dowco.com
Phone (604) 681-0718, Fax (604) 681-6595

New York, NY: Gone are the days when vacationers sought nothing more of the outdoors than a comfortable chaise lounge at the beach resort. The most recent survey completed by the Travel Industry Association of America shows that among U.S. travelers alone, 173 million person-trips each year involve at least some outdoor recreational activity. And while there are as many definitions of "adventure travel" as there are travelers seeking adventure, more and more vacationers think of relaxation in terms of rock climbing, mountain biking, snorkeling, whitewater rafting, and close encounters with wildlife in its natural habitat. How do you prepare for these new encounters, these emerging activities?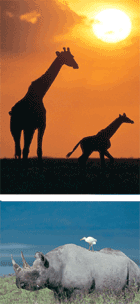 As adventure travelers continue to explore new vacation territory, both in the U.S. and abroad, they have to change the way they prepare for their vacations and adventures, as well. The organizers of the Adventure Travel Expo, which will be held in NYC January 9-11, 2004 at the Jacob Javits Center, offer these tips for safe and happy adventure travels:
* Do your homework. Bookstores and websites offer a wealth of resources about your destination, its attractions, the food and facilities there, and cultural considerations you'll want to bear in mind to make the most of your experience and your contact with the local people. Start with www.lonelyplanet.com, www.activetravel.about.com , www.roughguides.com and www.maps.com for a long list of links and resources to start your planning. If you're planning on doing any purchasing when you're in foreign locales, you'll want to read U.S. Custom's "Know Before You Go for more information on products that cannot be imported to the U.S.

* See your doctor. Certain vaccines and preventive medications are recommended and in some cases required for travel to some remote locations. Your own medical history and conditions may also affect what precautions and preparations are advisable for you; consult with your doctor to determine what you need to do to stay healthy on your trip. If you're visiting a remote location, obtain a list of the best medical facilities in the region and consider bringing a supply of emergency supplies with you in the event that the sterility of local medical supplies is uncertain. Even a local camping trip can pose risks you can easily eliminate by, for example, making sure your tetanus inoculation is current. Keep tabs on your health after your return, too, and see your doctor promptly to diagnose and treat any post-travel symptoms of illness. For more information to share with your doctor during your discussion,check out www.cdc.gov.travel for U.S. government health advisory information around the world or travelhealth.net, for information on specific travel related health issues.

* Be prepared for changes in climate and environment. Travel is tiring under any circumstances. Throw a change in altitude into the mix and you may not be able to participate in your planned activities as immediately or as fully as you had hoped. Take it easy, take it slow, and try to arrive a day or two before you begin strenuous physical activity so your body has time to adjust to its new surroundings. Although most people can go to 8,000 feet from sea level without a negative effect, anything above that classifies as a higher risk, and some people are more susceptible than others to altitude and weather changes. Acclimatizing for a day or two helps you find out!
* Get in shape. Peak physical performance is optimal for all strenuous activities, and particularly important for those that involve heights or depths like mountain climbing, treks in high altitudes, or diving. Several months before taking a high adventure trip, work with your doctor to develop a physical exercise program designed to get you in the best condition for the activities you'll be undertaking. You can do this even in an urban setting by stair climbing, walking, and weight lifting.
* Protect yourself from the elements. When you're outdoors for long periods of time, a wide-brimmed hat and a high-SPF, non-PABA-based sunscreen is essential - - even more so if you're in a tropical or sub-tropical location or at an elevated altitude. Closed shoes can literally be a lifesaver by protecting your feet from unfriendly parasites; in some locations you're best off leaving your sandals at home. Long pants and sleeves may be your best bet in certain buggy climes and don't forget the DEET-based insect repellent!
* Avoid alcohol. Alcohol dehydrates the body, and you'll need to keep your body fully hydrated for strenuous activity. While the tendency on any vacation is to have a few cocktails, you'll want to abstain if you're planning high-energy physical activity. Bottled water is the drink du jour for smart adventure travelers!
* Consider travel insurance. If you'll be in a remote location, at home or abroad, think about investing in a travel insurance plan that can simplify and minimize the expense of getting home in the event of an injury or other emergency. Check out www.insuremytrip.com if you don't have a resource to explore this option.
* Pack carefully. Think not only about your first aid kit and drugstore supplies, but also about items you may have difficulty obtaining once you're out on safari or have ascended to 1000 feet on that mountain. That's no time to realize you need fresh batteries, a rain poncho or a few more rolls of film. It's not a bad idea to keep a spare toothbrush on hand, either. Just as important: pack no more than you can carry....most porters are not working in the rain forests of the Amazon.
* Know the communications situation. When traveling in remote locations, you likely won't find a pay phone. Before you go, learn what communications links will be available to you, and determine whether you'd be able to acquire a cell phone at the destination or whether you need to investigate satellite phones in advance. These hi-tech phones have come down in price in recent years. www.worldcell.com offers a wide range of options such as renting satellite phones, international cell phones and more.
* Practice the adventure travel credo.
"Take nothing but photographs. Leave nothing but footprints." The great coral reefs, waterways, mountains and rain forests can only be as beautiful for travelers that follow if we all plan to remove our trash, look but not touch, and walk, don't drive!
The Adventures in Travel Expo will appeal to travel enthusiasts who not only want to visit a destination, but to experience it from an activity, cultural or spiritual standpoint. Adventure travel encompasses a wide range of activities - everything from soft adventure such as walking tours, bird watching, cruising, and camping, to hard adventures like white water rafting, wilderness expeditions, extreme skiing and arduous treks. The Expo, sponsored by New York media giants like The New York Post and 1010 WINS radio, as well as others like National Geographic Adventure, will present a unique opportunities for consumers to find information about all aspects of adventure travel under one roof. We join with industry leaders such as the Rainforest Alliance in promoting responsible adventure sports.
For more information about the Adventures in Travel Expo, please contact Jim Cohen at
(203) 878-2577 x 22 or visit www.adventureexpo.com.