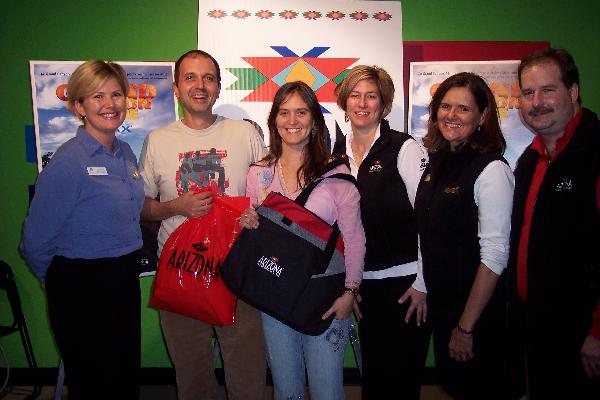 Left to Right: Kathrine Blomquist from the Tempe CVB, Montreal grand prize winners Mario and Veronica Bronzo, Jennifer Sutcliffe from the Arizona Office of Tourism, Joyce Lingenfelter from the Flagstaff CVB and Chris Ryall from the Arizona Office of Tourism's Canadian Office.

Visit the Grand Canyon - one of the Top 10 Wonders of the World
Excerpts from the Arizona website ...
The World's Top Golfers Tee Off in Tucson
Come February 2007 the eyes of the golf world will fall on Southern Arizona. The Gallery at Dove Mountain is the new home of the World Golf Championships &endash; Accenture Match Play Championship. The world's top 64 golfers will try to make their mark in the history book of this exciting tournament.
Billed as the cornerstone of the World Golf Championships, the five-day tournament will take place in Marana &endash; just north of Tucson &endash; for the first time, February 19-25, 2007 and features a $8 million purse. Regional and local charities such as The First Tee program will also benefit.
This tournament will feature the best that the golf world has to offer. Pros like Tiger Woods, Vijay Singh, Phil Mickelson, Mike Weir and defending champion Geoff Ogilvy will compete head-to-head at The Gallery at Dove Mountain's South Course with 60 other golfers in a match-play event that has produced an array of unpredictable finishes and intense drama since its inception in 1999.
For further information, please visit www.worldgolfchampionships.com
Go Wild in Arizona this Winter!
Come experience the wild side of Arizona this winter at its many wildlife parks and ranches. From llamas and turkeys to zebras and giraffes, the state's wildlife parks and ranches truly run the gamut of the great outdoors. So if you're an animal lover, be sure to check out these attractions during your next trip to Arizona:
Out of Africa Wildlife Park&emdash;This attraction, located in Camp Verde, is part zoo and part safari, offering visitors up close and personal encounters with lions, wolves, hyenas and leopards. Want to kiss a giraffe? No problem! Feed a zebra? Sure! As a special treat, on Sundays, Wednesdays and Fridays, guests can see the employees feed 800 pounds of raw meat to the intimidating carnivores. Please visit www.outofafricapark.com for more information.
Fossil Creek Llama Ranch&emdash;Hidden in the ponderosa pine forest near Strawberry, visitors will find a truly unique animal experience. At Fossil Creek, pretend you're a "llama mama" while enjoying a beautiful and secluded hike where these pack animals carry your lunch. In addition, visitors can sample goats milk fudge, made on-site, and spend the night in yurts. Please visit www.fossilcreekllamas.com for more information.
Sipe White Mountain Wildlife Area&emdash;This 1,500-acre spread in the White Mountains of eastern Arizona is home to elk, muledeer and turkey, just to name a few. Visitors can learn about the area's history, flora and fauna at the visitors center, then sit outside on the porch to enjoy the unspoiled views and catch a glimpse of the native animals. Please visit www.azgfd.gov/outdoor_recreation/wildlife_area_sipe. shtml for more information.
Arizona Sonora Desert Museum&emdash;Located near Tucson, this museum is a combination of a zoo and a botanical garden. Hike the loop trail and discover mountain lion, bighorn sheep, black bear and Mexican wolf in lovingly created habitats. If you're feeling brave, check out the reptile house, where all kinds of creepy crawlies, from rattlesnakes to tarantulas, reside. Please visit www.desertmuseum.org for details.
For more information on Arizona's animal attractions, please visit www.arizonaguide.com .
Watcvh for more announcements

Smithsonian Directory of Airplanes Now Available Online
http://www.siris.si.edu/