Message from the President to the SBA
SBA's 50th Anniversary. Empowering America's Entrepreneurs Since 1953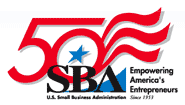 The year 2003 was a great milestone for the U.S. Small Business Administration (SBA); it is our 50th Anniversary.
This milestone presents us with an opportunity to celebrate the incredible contributions that small businesses have made to this great Nation.
Since the founding of our country, small businesses have contributed immeasurably to our progress and economic strength. Small business is an enduring symbol of the American Dream. 50 years, the SBA has played a vital role in ensuring that the door to the American Dream is truly open to all entrepreneurs, because the dream should never be limited by access to capital, information or training. In America, an entrepreneur's only limit should be his or her own ideas and desire to succeed.
Please join me in celebrating America's small businesses, and the SBA's commitment to help entrepreneurs keep that American Dream alive and well for today, and for future generations.
Sincerely,
Hector V. Barreto
Administrator
http://www.sba.gov/50/50index.html
---
Fly the Air Highways to California's Inland Empire
We met the folks from the Inland Empire at the Com-Dex Trade Show in Vancouver, and were impressed by their program. For that reason we invite you to contact them for further information, The following is an excerpt from material they sent to our Info Desk:
From wildlife to nightlife, the Inland Empire has it all. And if you're looking for adventure, look no further. The Inland Empire Tourism Council is pleased to offer this directory of opportunities for fun and adventure in Southern California's Inland Empire: The Inland Empire has a varied landscape of chaparral-covered deserts, mile-high apple ordchards, snow-cap
Perfect settings for adventure.
The San Bernardino National Forest offers endless opportunities for outdoor fun. Cities rich in heritage offer visitors a glimpse of the Victorian era, while Calico Ghost Town preserves the romance of the Old West. You'll find it all here: from a sunrise flight in a hot-air balloon to a hike along the Pacific Crest Tail; from a quiet ride in a horse-drawn carriage to parachuting from a plane. Where else can you water ski on a quiet lake in the morning and skim down snowy ski runs in the afternoon? The sun-kissed Inland Empire gets it all--great weather, tourist attractions, year-round recreation and prize-winning wines. Adventure is always in season here.
http://www.csz.com/inland/ietc/
Phone (909) 890-1090
May 81 42 ped mountains and rolling valleys.