Mt. Baker Ski and Recreation Area
by Jerry W. Bird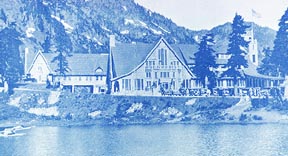 W hen I look at the early photos of the Mount Baker Lodge and Ski Area in our magazine's archives, it makes me wish I was born three or four decades earlier. That's why we will bring you capsules of the area's colorful history along with a profile of the many attractions the area offers today. Some claim that Mt. Baker has the highest average snowfall in North America - 595 inches per year- which is reason enough to attract winter sports fans by the bus or train load.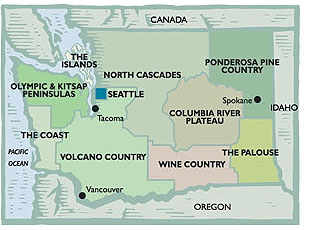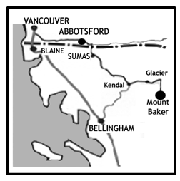 Getting There: Here in what seems to be 100 miles from nowhere, is a year round playground, that's accessible from Greater Vancouver and Mighty Fraser Country to the North, Bellingham, Whatcom County on its doorstep and Seattle- KIng County, three hours to the southwest. It's ideally located for those flying in to Abbotsford Airport from Alberta and points beyond, who want to rent a vehicle at the airport terminal. Be sure to book accommodation ahead.
The Mount Baker Ski Area is located on the mountain's northeastern flank, with a base elevation of 3,550 feet with an 11,000 ft. vertical rise. there are currently 8 chair lifts operating from 9:00 am- 3:30 pm, plus two rope tows. You can walk to Nordic skiing areas and you can park all day for free. Rentals, ski lessons and day care are available. Vintage photos courtesy of Marilyn Zurkowski, Delta, BC.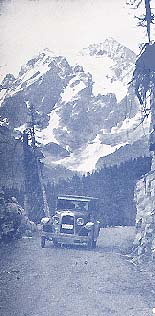 Getting there is more than half the fun; while

it's a winding, challenging drive, many of the spots en route still have that laid back feel of the 50s. There are some neat stopping places, that are bound to extend your trip by a few hours, including Holy Smoke, a converted church not far from the Saris border crossing. Having learned about the area from ski enthusiasts while working on several international Snow Sports editions for a Canadian travel trade magazine, I was naturally curious. The opportunity for a first visit, came not during ski season, but on a glorious day in the middle of August.,1987. Believe it or not, there were still signs of snow. Imagine picnicking, guitar picking and basking in the summer sun, while tossing snowballs near one of Washington's most famous peaks. Close to heaven - and not a care in the world.
We will bring you more details on lodging in the area and attractions enroute, but for now here are the basic rates for your ski vacation.

Above photos shows the road to Mt. Baker in the 1920s. Other than being full paved all the way, not too much has changed, most of the twists and turns are still there- but take your time, the laid back atmosphere is unforgettable.
Monday-Wednesday: Adult: $22, Youth/Senior: $18,
Thursday-Friday: Adult:$24, Youth/Senior: $19,
Weekends and Holidays: Adult: $32, Youth/Senior $24.50
Season: $595, MasterCard,Visa (US funds)
Tel: (360) 734-6771, fax: (360) 734-5332
---
Where to stay at Mt. Baker Recreation Area
Book Ahead before you leave!

Conveniently Located Just 1.5-Hours South Of Vancouver And 2-Hours North Of Seattle, Mt. Baker Lodging Is Your #1 Source For Private, Self-Catered, Fully Equipped Cabin, Cottage, Condo, Chalet, And Executive Vacation Home Rental Accommodations Located In The Villages Of Maple Falls And Glacier, At The Magnificent Gateway To Mount Baker, Washington.


Contact: Dan Graham, President
Mt. Baker Lodging, Inc. (accommodations)
7463 Mt. Baker Highway, P.O. Box # 5177
Glacier, Washington 98244-5177
1-800-709-SNOW (7669) [Canada & U.S.]
1-360-599-2453, 1-360-599-1000 (fax)

http://www.mtbakerlodging.com/links.htm
http://www.mtbakerlodging.com