Spokane: Gateway to Eastern Washington and Couer d'Alene Idaho's lakeside resort
by Jerry W. Bird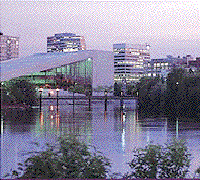 ..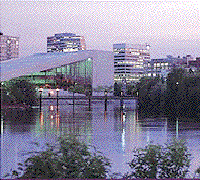 ..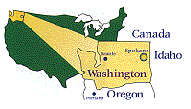 If you're into scenic views, like the songs says "on a clear day you can see forever." I'm told that one can actually see three states and two provinces from atop Mount Spokane; Washington, Idaho, Montana, Alberta and British Columbia. Speaking of songs, Spokane is the birthplace of Bing Crosby, America's favourite crooner for decades. While the history book says it was the Spokane River that first lured settlers to the area, for myself it was Expo '72, an experience that sparked a new direction in my career, leading to a focus on audio visual media. I was fascinated by the grand array of multiple projector shows at several pavilions. The Expo experience was a blessing to the City of Spokane, transforming an area of urban blight on the downtown riverbank, into a place of beauty and pride.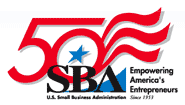 Expo laid the groundwork for numerous tourism opportunities, and one can see the evidence on every return. I've always enjoyed my visits to Spokane, and enroute, make it a point to stop at the world class resort area of Coeur d'Alene (right) just 33 miles away. From that popular Idaho city, it's just a hop and skip to Flathead Country, another area you should add to your agenda.
Spokane is 110 miles south of the Canadian border, which makes it convenient for those who live in Southern Alberta and the East Kootenays. North of the city are two large bodies of water, namely Lake Roosevelt (site of the spectacular Grand Coulee Dam) and the Pend Orielle River.
Further east is the Moses Lake area as you drive by or fly over mile upon mile of wheat fields waving, fed by giant mechanical irrigation systems, looking like some weird moon modules from a Buck Rogers comic book. A few more pleasant hours by car brings you to the fertile Wenatchee Valley, my personal Garden of Eden. Take your time, stop and smell the roses, or cherry blossoms, depending on the season.
Spokane Mini Mosaic: Scenes in the above fotomation are from literature you can obtain from Spokane and Area Convention & Visitors Bureau.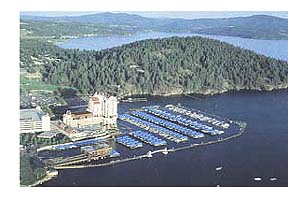 Spokane Area Convention & Visitors Bureau
801 West Riverside, Ste. 301, Spokane, WA 99201
(509) 624-1341, visitors@spokane-areacvb.org

Spokane International Airport
509-455-6434, Administration: 509-624-6633
Carriers: Air Canada; Alaska; Delta; Horizon; Northwest; Southwest; United (shuttle)
Click for Spokane Airport Route Map
Washington Aerospace Alliance
Seattle Tower, Suite 1600, 1218 Third Ave
Seattle,WA 98101, Email:kmiller@apcoassoc.com
Tel: (206) 443-5712 , Fax: (206) 224-4344
Website: www@waa.net
*"The Spokane River, once a steady source of food for various tribes, who gathered to net the abundant salmon, later provided hydro electric power to operate numerous sawmills, flour mills, and other industries which built the economy. The downtown riverbank area, blighted by decades of industrial and commercial growth, was cleaned up and completely transformed in preparation for Expo '72. We experienced that magical transformation and shared some very special moments with the locals from Washington and Idaho." Editor
Map of Spokane and area.