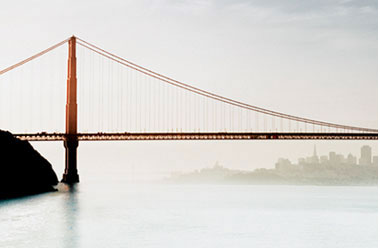 Discover Vacation Gold on San Francisco Bay
by Jerry W. Bird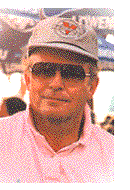 Did you know that the United Nations got its start in San Francisco? That's just one of the little known facts about this fascinating city, which is near the top of my all time favorite places list. That goes for both vacation getaways and business travel. In fact, most of my working trips and various video or public relations projects have been such a blast, each one seems like a vacation. An affluent, world-class city and financial center, San Francisco attracts visitors from all over, who each year leave behind around $2 billion in revenue - and for good reason.
I've strolled its streets and climbed its hills in every type of weather, which to me is seldom a factor, since it's so easy to get around. What's more, if you've read many of my travel items on Adventure Rails, you'll know that streetcars are my most beloved form of conveyance. In my world, the Bay City is "Street Car Heaven, " where all good trolleys go. As for scenic vistas and interesting, historic architecture, Rev. Billy Graham put it this way,"The Bay Area is so beautiful, I hesitate to preach about heaven while I'm here."
Last time I worked on a Travel-Leisure section involving Northern California, we covered the area like a blanket, mainly by car, our own and the occasional rental vehicle, and there was always something new and exciting around every bend in the road. The city is alive and vibrant, from Fisherman's Wharf, Chinatown and Alcatraz Island, to Russian Hill, the Golden Gate and dozens more great venues. I've asked several others in our editorial team to give their impressions of San Francisco, so between us we expect some great moments and ideas to share with you. At San Francisco, you're in the center of everything, from the Napa and Silicon Valleys to the historic Sacramento River Delta.
Having read every book by the two Johns (Steinbeck and Jakes), visited Sutter's Mill, where the Gold Rush of '49 began, and having harmonized with some Barber Shop Quartet Conventioneers in Folsom, we became Northern Californians at heart. Folsom is one of the restored mining towns you'll find when you drive along the "Golden Chain," which is actually Highway 49 from Grass Valley in the North to Tuolome Country in the South. Go there at the right time of year and you may take in a frog-leaping contest. Having family around the area helps too. With my Dad living near Monterey, and Sister Rosalie and family nestled in a neat little community near Sacramento, it was never hard to lure me to the Bay Area. Now that Alaska Airlines has such great fares from Seattle and Vancouver, it's getting easier than ever.
Watch for "Vacation Gold on San Francisco Bay" a 24-page Self Cover Section in the September Edition of Air Highways Traveler, plus a Supermap of Airports and Air Routes from Baja to Barrow. This new section will be previewed on line in installments prior to publication. Thanks to friends in the area, we will provide plenty of valuable connections for our Travel Agent readers and their clients. Here are some of the organizations we plan to work with in building this exciting travel section:

San Francisco Visitors Bureau . http://www.sfvisitor.org/

California Office of Tourism . www.gocalif.ca.gov

Bay Area World Trade Center / BayTrade
www.tradeport.org.
Black Chamber of Commerce of Santa Clara County
www.netusa.com/sccbcc/.
California Council for International Trade . www.ccit.net
California Trade and Commerce Agency:
Office of Export Development: www.commerce.ca.gov
Greater Oakland International Trade Center: www.tradeport.org
San Francisco Chamber of Commerce, International Department:
www.sfchamber.com/trade/trade.htm
San Francisco Chronicle Daily Newspaper: http://www.sfgate.com/chronicle/

San Jose Chamber of Commerce: http://www.sjchamber.com/
San Rafael Chamber of Commerce: http://www.sanrafael.org/
US Chamber of Commerce: http://www.uschamber.org/default.htm
Oakland Chamber of Commerce: http://www.oaklandchamber.com/
Silicon Valley Chamber of Commerce