PORT OF SEATTLE SHINES AS RISING STAR IN CLIA CRUISE HOMEPORT PHENOMENON
700,000 cruisers expected to sail from Seattle this year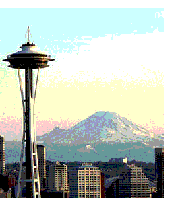 Since the inception of Cruise Lines International Association (CLIA) in 1975 the number of U.S. "homeports" - cities from which cruise ships offer regular departures - available to North American travelers has nearly tripled. Travelers now have an unprecedented selection of 30 homeports from which to choose, with the Port of Seattle among the most popular.
Once an infrequent port of call for the cruise lines, Seattle has experienced strong growth as a major player in the cruise industry's expansion into "drive-to" markets. As a result, Seattle now ranks among the nation's 10 busiest cruise ports, according to the International Council of Cruise Lines, CLIA's sister organization and the cruise industry's regulatory and maritime association.
In 2002, 118,000 passengers sailed out of Seattle; the number rose to 158,000 passengers in 2003 and last year the port hosted 562,000 cruise guests on 150 port calls. This year, Seattle expects to welcome more than 170 cruise ship visits and nearly 700,000 guests.
"The growth of homeports is an extremely positive trend for the cruise industry. Cruise lines realize that North Americans desire departure ports within driving distance, eliminating the need to fly," said Terry L. Dale, president and CEO of CLIA - the cruise industry's chief marketing organization and North America's largest travel industry association based on agency membership.
Close-to-home embarkation ports significantly reduce the overall price of a cruise vacation. For example, a family of four on a seven-day Alaska cruise departing from Seattle will save hundreds of dollars in airfare by eliminating the cost of air travel to Vancouver.
This year the following cruise lines will offer regular departures from the Port of Seattle:
CELEBRITY CRUISES
The line's Mercury will operate primarily on seven-day Inside Passage sailings from Seattle to Alaska. Highlights of the itinerary include cruising the Inside Passage, Juneau, Skagway, cruising Glacier Bay, Ketchikan and Victoria.
HOLLAND AMERICA LINE
Amsterdam and Oosterdam will operate on seven-day Alaskan Explorer itineraries. Amsterdam will sail itinerary include Glacier Bay, Juneau, Sitka, Ketchikan and Victoria. Oosterdam will cruise Hubbard Glacier and call at Juneau, Sitka, Ketchikan and Victoria.
NORWEGIAN CRUISE LINE
Norwegian Star's seven-day itineraries include the Inside Passage, Juneau, Skagway, Glacier Bay, Ketchikan and Victoria. Norwegian Spirit's sailings visit the Inside Passage, Ketchikan, Juneau, Sawyer Glacier, Skagway and Prince Rupert Island.
PRINCESS CRUISES
Diamond Princess and Sapphire Princess will feature seven-day voyages calling at Juneau, Skagway, Ketchikan and Victoria, plus cruising through Tracy Arm and Sawyer Glaciers. Diamond Princess will offer 20 such voyages and Sapphire Princess 19.
For more information on CLIA member cruise lines, contact a CLIA-member travel agency. To locate an agency near you, use the Travel Agent Locator on CLIA's website at www.cruising.org.
About CLIA:
The Cruise Lines International Association (CLIA) is the premier nonprofit cruise industry marketing organization comprising 19 leading cruise lines, which collectively accommodate 95 percent of North American cruise passengers. CLIA member travel agencies - of which there are 16,500 - are considered the consumer's very best resource when planning a cruise vacation. For more information on CLIA, cruise vacations, its member cruise lines and travel agencies, visit www.cruising.org
CONTACT:
CLIA
Brian Major
(212) 660-1735
bmajor@cruiseassoc.com
M. SILVER ASSOCIATES
Gary Gerbino
(954) 689-6397
gary@msilver-pr.com
Seattle: Gateway to Puget Sound, Olympic Peninsula, Western Washington and Alaska
by Jerry W. Bird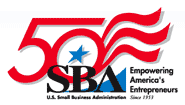 I have always admired the Boeing Aircraft Company, whose home base is in the Seattle area, and have hopes of including a tour of this marvelous world-class complex as well as the spectacular Museum of Flight at Boeing Field in our 2003 Air and Marine Travel Show series. Most of our delegates from North America and overseas, being members of the aviation and travel industry, will applaud the decision. My personal connection with the City of Seattle goes back decades - my father Don Bird was born here and my maternal grandfather Ernie Somerton grew up in nearby Edmonds, before moving north to Vancouver. When it comes to fond memories of Seattle, Tacoma and Western Washington,
I'll never forget the wintry day driving west from Calgary, Alberta, when my son Ron (then 12) and I were having visions of Ivar's famous clam chowder, which I described to him in glowing detail. The visions began appearing like a mirage, while our car was still plowing its way through the snowbound Cascade Mountains east of Everett, Washington. The deep tummy rumbles grew more intense each few miles as we neared the city. Finally seated at Ivar's famous dining room on Seattle's Elliott Bay waterfront, our waiter asked, "Do you wantdthe small, large or colossal bowl of chowder? Being almost as famished as street urchins in the musical comedy "Oliver," we both chimed in at once, "The colossal bowl of course. " You should have seen Ron's eyes bug out when the order was finally placed before us -- Ivar's soup bowls were not unlike those white porcelain wash basins that were once the standard in rural Canadian hotel rooms.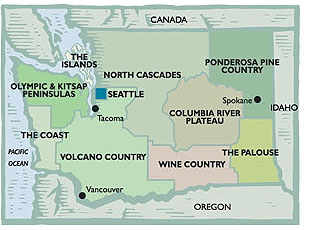 And each colossal bowl was brimful of fat, saucy clams, swimming in a steamy, succulent broth. I get hunger pangs and warm feelings all over again just thinking about it. Ivar's Restaurant is like a village museum; all of the walls and hallways, even the washrooms, are lined with photos of early days on the bustling Seattle waterfront. Many dated back to the days of the Klondike Gold Rush, when Seattle jockeyed with the other coastal cities for top position as supplier to the gold fields. Some scenes took me back to my childhood in Dawson City, which was a living museum at the time.
One could easily spend an hour or more wall watching. I love that whole Elliott Bay area, with its shops, attractions and entertainment, ferry terminal and the famous Pike Street Market perched on top of the hill. By the way, outside Ivar's is an old fashioned streetcar that will take you along the harbor front.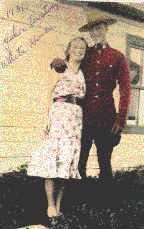 Second Home
Seattle has been our second home in the last two decades, and was our family's original family home. My dad, Don Bird, was born in Kirkland, a Seattle suburb on Lake Washington. He later went north to join the Royal Canadian Mounties, met my mom in the Yukon, and the rest is history. Yet while I lived in Northwest Washington State for 6 years, it was never in the Emerald City. Perhaps that's why I'm still intimidated by the freeway system. Last spring, when we drove in downtown Seattle on business, one of us took a wrong turn and ended up in the far northern outskirts, by the University, having had no opportunity to turn around. It was almost two hours later, thanks to some help from some kind citizens who kept their eyes peeled, that we were reunited. Guess which one of us had all the money, plus bank and credit cards? The day was a panic anyway, as I had to get my US passport renewed for a trip to Africa that same week. Seattle's wacky traffic zoo is always a challenge, but great fun if you're in a nutty mood.
More Northwestern USA Gateways: Anchorage/ Moses Lake/ Portland/ Spokane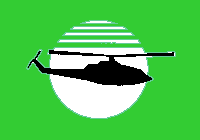 Getting there from Canada. As an aviation aficionado and ex RCAF, I enjoy any opportunity to visit Boeing Field. A quick, convenient way from either Vancouver or Victoria is by Helijet Airways. As an avid desktop publisher since the first day of the Apple Macintosh Revolution, the name Microsoft looms large. This means a lot of Canadians will spend their time in and around Seattle in the years to come, as Silicon Valley North threatens to outdo the original. From Vancouver to the Seattle (Sea-Tac) Airport by car, allow at least three hours. The bus service is excellent and leaves from the Sandman Inn on West Georgia Street.
Another leaf from Bird's book of great Seattle memories is the "Spirit of Washington", a superb dinner train that rattles and rolls from suburban Renton, across a large trestle bridge, then along Lake Washington to the winery at Woodinville. Every dining coach is a classic, conversation piece and no two are even the least bit identical. Ask the Seattle CVB folks for more details at 206-431-4444. I honed my writing skills in Seattle, working with Neil Strother on his newspaper Seattle Northwest Prime Times, which has since been sold. Neil is now a top editor in the Internet Media field; we will link you to some of his articles first chance we get.
Living in the Vancouver, BC area as a child, and since Expo '86 as an adult, Seattle' has always been a magnet, with Pike Street Market, a bustling waterfront, lush flower gardens, and a water wonderland embracing Mercer Island, Bellevue and my dad's home town of Kirkland. Our favorite supermarket by far is Larry's near Sea-Tac airport; stop a while and stock up for the picnic of your lifetime, or just feast your eyes. Our top department store, especially for clothing, is Nordstroms, a Seattle original. Add to those choices, some favorite bed and breakfast, hotels and dining spots, and the combination makes Seattle a place you don't mind being sleepless in.
We've vowed to see a Mariners or Seahawks game in their new stadium before long. The population of Seattle and the greater Puget Sound area is 3,000,000 and bursting at the seams. Yet thanks the natural boundaries of hills and water, most neighborhoods, such as Kirkland, have a small town feeling, friendly and laid back. While umbrellas are common, Seattle's rainfall is often exaggerated, even by its citizens. We're told the annual rainfall here is 36 inches, less than New York and other cities with no special reputation for rain. During the rainy winter season it seldom pours buckets. In this moderate climate, Seattle's rain usually arrives in the form of passing showers or a gentle mist.
Washington State Airport Profiles (to come): Boeing Field/King County International, Paine Field/ Snohomish Country, Arlington Municipal, Bellingham International, Bremerton National, Renton Municipal, Snohomish Airport (Harvey Field)
Free Online Map of Seattle Airport from MapQuest: http://www.mapquest.com/cgi-bin/ia_find
Helijet Airlines or Amtrak?
Fly the Super City Triangle to Seattle via Vancouver and Victoria or take the Train. Much more to come, including transportation by rail(Amtrak and Washington State Transportation are urging an extra scheduled train to Vancouver to improve service). Also ferry and cruise ship routes and contacts.
Washington Aerospace Alliance
Seattle Tower, Suite 1600, 1218 Third Ave
Seattle,WA 98101. Email:kmiller@apcoassoc.com
Tel: (206) 443-5712. Fax: (206) 224-4344
Website: www@waa.net

With over 150 members, the WAA is the largest aerospace association in the world, recognized for the quality and capabilities of it's membership. The mission of the Washington Aerospace Alliance (WAA) is to promote collaboration among Washington aerospace suppliers to reduce manufacturing costs, improve productivity, develop new products, increase sales and organize strategic marketing initiatives on behalf of the industry in areas beyond the reach of individual member companies.
Everett, Wa and Snohomish County: 'Tis the season for salmon fishing, now through December. The latest copy of Snohomish County's Story line tells of River Meadows Park for pink salmon, South Fork of Stillaguamish River, Jordan Creek near Arlington. Also pink and chum near Darrington, pink and coho at Borlin Park, and several other choice spots. Get more details from sandy@snohomish.org, or www.snomomish.org
Sandy Ward, Executive Director
Snohomish County Tourism Bureau
1-800-425-328-5802