Letters from around the world
Send us your Photo Stories
We invite our readers from around the world to send in their letters and requests, and will do our best to find information sources by posting their letters for as long as it takes to generate a response. We also invite suggestions regarding topics you would like to see on our pages and in our magazines. Send your letters in English or French (we're bilingual). Muguette Goufrani. africa@dowco.com

An exciting new book on Ethiopia from a talented Vancouverite
Dear Jerry and Muguette, I am pleased to announce that I have finally published a book of photography from my travels in Ethiopia. In this e-mail you should be provided with a link so that you can view it on-line. It is also announced on my website at www.acfairbankconsulting.ca/photographer.htm. Copies of the book can be ordered through my website.. All the best, Angela Fairbank acfairbank@shaw.ca www.acfairbankconsulting.ca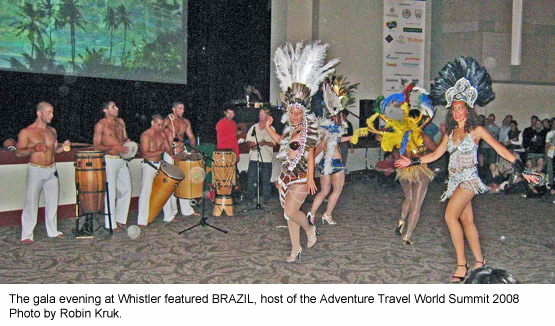 Greetings from the Travelin' Cheezhead:
My 6 day trip to Whistler, BC, earlier this month took me to the Adventure Travel Trade Association's annual Summit conference. Yes, the ultra cool mountain ski village is beautiful in the fall, and a great relaxing place for a meeting. I attended the meeting to learn more about the growing niche market of Adventure Travel & to make job contacts there. Attendees included tour operators, travel agency specialists and travel media from all over the world.
The weather was typical mountain fall, including rain, mist, fog, sunshine, and even a few great views of the nearby mountain peeks. I stayed at the Pan Pacific Mountainside hotel, about a minute away from the gondola to the top of the extremely steep mountain. The hotel gets rave reviews & high stats as a resort from publications like Conde Naste. We got really good rates as association members.
My hotel included an Irish bar with lots of good music, Irish & folk, sung by Guitar Doug. Whenever Doug asked if everybody was tired yet, the crowd enthusiastically yelled, "No!!", so he kept on singing. The halibut, salmon & corn beef was delicious. Since the bar got some bad beer kegs, the usually great tap beers, Harp & Molson, were not available. Eeeeeeekkkkkkk! I spent every night in the cozy Irish pub, with a nice warm fireplace, before going to bed.
We had 3 nights of entertainment & specialty foods at the conference including a Canadian night & Alps night (featuring France, Germany, Italy & Switzerland). My favorite party was hosted by Brazil, which included a fabulous Samba band & dancers. The conference was held at the convention center located in the Village Stroll area, about a 10 minute walk through the picturesque town.
There wasn't much time for enjoying the area since the Summit meeting did provide a lot of information packed sessions on trends & marketing in the Adventure Travel business. The gondola ride to the top of the mountain took 25 minutes where I traveled through rain, snow and fog to the snow packed top of the ski area where the Olympics will be held in 2008.
Robin Kruk
rkruk@wi.rr.com . Racine, WI, USA
ON AIRLINE FOOD
Dear Air Higfhways: I e-mailed Air Canada and they told me that you make their food i am doing a food tecnology project on airline food and i would really appriciate it if you could send me some information on the kind of food you make,what the ingredients of a typical meal is,what the food is ,the nutrisional value,the size of the tray,the cost of the meal and a picture would really help if thi is possible please could you email me back and I will send you my address thankyou for your help Victoria
Dear Victoria, The catering company is CARA ,a Canada wide organization. We wrote a profile on the company, which is on the following page: http://www.airhighways.com/cara.htm It has Cara's website, and from that you will have their e-mail address. We had a tour of their facility at Vanc ovuer International Airport and it was very impressive. Good luck on your project and let us know how you make out. Editor
I'm a Canadian aviation historical researcher and am presently researching the activities of Canadians in the Korean Air War (1950 - 1953). This is a broad-based topic but involves the nearly-700 charter flights by Canadian Pacific Airlines from Vancouver to Tokyo via Anchorage/Shemya(in the Aleutians) /Tokyo. On 20 July 1951 one of CPA's DC-4s with a crew of 7 and 31 passengers disappeared near Juneau and after an extensive search - was never found.
The aircraft departed about 7 PM Vancouver time and flew the old radio range system "Amber One" route between Vancouver and Anchorage - it first stop for fuel. At 11PM it checked in near Spencer Bay AK - all was well but missed the next radio check at midnight at Yakutat AK - it was never heard from again. I'm trying to find a set of the old maps that will clearly show the Amber one route up the coast to Anchorage - do you know where I could find these??? \regards, Carl Mills, Toronto, 416-495-0907, mailkto:bansheepublications@rogers.com

Dear Muguette,
Thank you very much for writing and sending the magazines to me to share with members of First Presbyterian Church of Cunnecticut Farms. I will update you with our future travel plans to Cameroon. I will also forward your email to our Pastor especially regarding your offer to inform the ministry of Tourism. If you will be in the New Jersey area on Sunday, April 25, 2004, please join in church service and immediately following the service, we have "A Taste of Cameroon" get together. Expected start time for the after church event is 12noon on Sunday April 25, 2004. We will be delighted to have you or your representative at the occassion if you can make it. My home phone number is (973) 597-9229, office is (862) 778 8572 and cell is (201) 306-1912. Thanks again and best regards,. Ephraim
Samarkand, The Great Silk Road and Points East: We are pleased to have an opportunity to introduce to you our company "KO' HINUR". We are a travel agency in the Republic of Uzbekistan with the headquarters in Samarkand; we offer diverse range of tour packages (tours onthe Great Silk Road, cultural and historical tours, exotic tours (includingcamel and horse riding tours) within Central Asia (Uzbekistan, Kazakhstan, Kyrgyzstan, Turkmenistan and Tajikistan). In May 2001 our company became an agent of "Uzbekistan Airways". We would be much obliged to you if you provide us with the list of outgoingtour operators working in your country, which will be used in order to develop relations between our counties and to get mutual benefits from our cooperation. Uzakov Akmal. General Manager
From a viewer: I was wondering if you had any information regarding abandoned railways in B.C. ? If you do or know of a url could you please pass it onto me..... Any info you can share would be greatly appreciated. Thank you in advance. Linda
Dear Linda: The best known abandoned railway in the province of British Columbia, Canada is the famous Kettle Valley line, which a lot of people from here and around the world enjoy for hiking adventures and cycle trips. Here is a brief introduction of it from the web:
"The ribbons of steel that made up the Kettle Valley Railway are gone. All that is left are 16 km (9.9 mi.) of track, the odd station house and out buildings, a few relics and the history. The Kettle Valley Railway was the tie that bound the Kootenays to the rest of British Columbia. The Kettle Valley Railway started at Hope and went all the way to Midway, zigzagging throughout the south western sections of B.C. From Hope, the KVR made its way through the Coquihalla River gorge. It continued onward to Princeton, West Summerland, Penticton, along the south side of Okanagan Lake and finally south to Midway, for a total of 525 km (325 mi.). They constructed branch lines to Merritt and to Osoyoos, making the line complete. "
There's more about this historic railway line on the web site: http://www.bcadventure.com/adventure/explore/ok/trails/kettle.htm
There is also a working short line steam railway in the Okanagan Valley operating for tourists from Summerland, BC. http://www.kettlevalleyrail.org/
If you get a chance to visit the area and explore the line, please send us your comments. Regards, Jerry W. Bird, Editor

Travel Posters of Africa
I work at the Suffolk County Vanderbilt Museum. We are a small natural history museum located in Centerport, NY. We have many unique artifacts from Africa and wish to teach children from the local area and surrounding areas about this wonderful, mysterious continent. Our African Adventure will take place this summer. If you would be so kind and send a travel poster it would greatly enhance our program and help the children understand the unique diversity of life found in Africa. Thank you for your consideration, Sincerely, Kathleen Frost, Vanderbilt Museum, 180 Little Neck Rd., Centerport, NY 11721, mailto:tfrost@optonline.net
Dear Kathleen. Please visit our Africa Travel Association (ATA) web site, which has a page listing the main contacts in the USA for African National Tourist Offices, with links to embassies and airlines serving Africa from the USA and Canada. http://www.africa-ata.org/african_tourism.htm . We've also passed on your request to ATA head office in New York City.
Open Skies to Canada- USA
If possible, I would like some more information on the benefits of Open Skies to Canada, including further details on these statistics. Your publication has so far been one of the best sources of information on this topic that I've come across and any help that you could provide would be greatly appreciated. Phillip T. Slattery , Economic Section, U.S. Embassy - London

We are currently working on an update on Open Skies with the latest comments from exprts around the continent and overseas. Another project is taking place soon in the Caribbean, reparding flights to Africa via these exotic islands. We will keep you posted.
---
Visitors from Oregon to British Columbia, Canada
I understand that there will be a Mary Kay training conference held at the Vancouver BC Convention & Exhibition Centre on April 5th and 6th. I am interesting in attending and would drive up from Oregon. Can you direct me to a good map which will show I-5 north, entering Canada, and to the Convention & Exhibition Centre. Also can you give me a list of close Hotels and a list of the local restraunts, and some things to do or see close by. Thank you. Gyrid Dilley
Dear Ms. Dilley: For your road map and specific hotel information contact:
Tourism Vancouver: http://www.tourismvancouver.com
Visitor InfoCentre on Burrard Street @ 604-683-2000
Visit our Air Highways web site and read our "Footloose in Vancouver" series
http://www.airhighways.com/footloose.htm which has many pages of information and a wide variety of scenes from Vancouver and area.

Our newest BC web site http://www.bcscene.com has general business and investment information. Toll Free Phone Line: 1-800-HELLO-BC (800-435-5622)

Loveboats on BC's Shuswap Lake
Have you any info on a company which offers romantic accommodations on one of three houseboats in BC? They were featured on tv last week.

Dear Folks: Here are two connections to follow up:
Sicamous is on Shuswap Lake, a short scenic drive from Vancouver via the Coquahalla Highway and Kamloops, BC - or go via the Okanagan Valley (wine country). Our Editor has vacationed there many times and loves the area. Let us know how you make out, and if you go, please send us a story and one or two photos for our site and magazine.

Three Buoys Houseboat Vacations
PO Box 709, Sicamous, BC Canada V0E 2V0
Ph. 250-836-2403, Fax 836-4304
http://www.threebuoys.com/
mailto:info@threebuoys.com
Toll Free: (800) 663-2333

Waterways Houseboat Vacations
Sicamous, BC Canada V0E 2V0
Ph. 250 836-2505, Fax 250 836-4848
Toll free in North America 800-663-4022
http://www.waterwayhouseboats.com