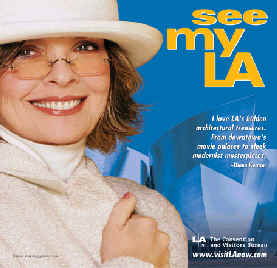 Modern Masters at LACMA
"Renoir to Matisse: The Eye of Duncan Phillips" brings more than 50 modern masterworks from the Phillips Collection in Washington D.C. to the galleries of Los Angeles County Museum of Art (LACMA). The Phillips Collection, opened in 1921, was the first museum of modern art in the U.S. and reflects the passion of one of the world's great art collectors, Duncan Phillips. This is the first time these works have been exhibited in LA and include Renoir's Impressionist marvel, "Luncheon of the Boating Party." The show runs Oct. 17 to Jan. 9 and takes over several LACMA galleries. One entire gallery is devoted to van Gogh paintings done in the last two years of his life. Another gallery focuses on Picasso and Matisse. The show also includes works by Bonnard, Cezanne, Daumier, Degas, Gauguin, Monet, Kandinsky and Klee. www.lacma.org.
See LA With a $3 Metro Day Pass
For just $3 a day, visitors can zip around LA -- no gas worries, no parking fees, no hassles. The Metro Day Pass brings riders to LA's most exciting attractions easily and economically. It can be bought aboard all MTA buses and at all Metro Rail stations, and is good on over 200 bus routes and four Metro rail lines. The Metro Gold Rail Line from Downtown LA's Union Station has stops at Chinatown, Southwest Museum, South Pasadena, Old Town Pasadena. The Red Line runs from Downtown through Hollywood (stopping in the absolute heart of Tinseltown at Hollywood & Highland) to Universal Studios Hollywood. The Blue Line takes you down to Long Beach. Metro stations are located near Metro bus stops allowing easy access to the entire LA public transportation system. From the Red Line transfer at Western Ave at mid-Wilshire and ride down Wilshire Blvd. to Museum Row on Miracle Mile, then on again to see the UCLA campus or the beach. The MTA website makes planning easy and quick. www.mta.net.
Women's Championship Tennis at Staples Center
From Nov. 10 to 15, the top eight seeded women in tennis will compete for a $3,000,000 prize at the World Tennis Association Championship at Staples Center in Downtown LA This is the World Series for women's tennis and the final tournament of the year. Based on current rankings, the competitors will be Justine Henin-Hardenne, Amelie Mauresmo, Anastasia Myskina, Lindsay Davenport, Kim Clijsters, Serena Williams, Venus Williams, Maria Sharapova and Svetlana Kuznetsova. Staples Center is hosting this exciting tournament (which will be broadcast worldwide) for the second consecutive year. Tickets: www.wtachamps.com.
Einstein at The Skirball
The most comprehensive exhibition ever mounted on the life and theories of Albert Einstein runs through May 29, 2005 at the Skirball Cultural Center. The exhibit features original manuscripts and personal treasures from one of the greatest scientists of all time. This intriguing presentation includes interactive exhibits that explore Einstein's revolutionary theories. Other exhibits focus on Einstein as a political activist who spoke out on the pressing issues of his time: segregation, anti-Semitism, McCarthyism and nuclear armament. www.skirball.org.
LA Master Chorale Begins Second Season in Acoustics Heaven
The LA Master Chorale, the resident chorus of the Walt Disney Concert Hall, begins its second season Oct. 3 with three organ masterpieces to celebrate the inauguration of the hall's magnificent new pipe organ. The amazing acoustics of Disney Hall were designed with chorale music in mind. Now in its 41st year, the Chorale, under the director of Grant Gershon, plans an eclectic year, juxtaposing works and composers in unexpected ways. The season (through May 22) includes Steve Reich's You Are (Variations), a stunning techno-rich choral work four years in the making, Carl Orff's sensual Carmina Burana, Morten Lauridsen's superlative Lux Aeterna, and the holiday season classic--a Messiah singalong. www.lamc.org.
Pamper Your Pooch LA-Style
From hotels to parks to sidewalk cafes and chic shops -- LA is exceptionally dog-friendly. Hotels such as Raffles L'Ermitage in Beverly Hills, St. Regis in Century City, Westin LAX, and Loews Santa Monica Beach Hotel provide canines with dog-walkers, dog-sitters, on-site vets, doggie beds and massages (amenities vary from hotel to hotel). LA's year round perfect weather makes any day a great day to be outdoors, and the abundance of public parks provides a number of choices for doggie-outings. Laurel Canyon Dog Park, Runyon Canyon Park, Sepulveda Basin Dog Park and Amir's Garden Trail in Griffith Park are just a few that have dedicated dog areas. Want to try a pet day spa? Try Chateau MarMutt on Third St. near The Grove. Check out the latest doggie fashions at Fifi n' Romeo on Beverly Blvd. Sidewalk café's are no longer just for people watching…. It's a scene as people check out the dogs as much as each other at the casual eateries on Sunset, Beverly or Third.