SAN JOSE, CALIFORNIA
Heart of California's Silicon Valley
Introducution by Jerry W. Bird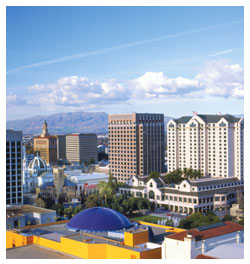 We look forward to visiting San Jose and the Silicon Valley once again this year, before and after the annual Bay Area Travel Show. If you're a travel agent living within reasonable distance, this is one event ou won't want to miss. For myself it will be a happy reunion, and our team at the show will provide a full update direct from the scene plus some photos and video to show the developments and recnstruction since our last visit. More to come.
PAST, PRESENT AND FUTURE: San Jose, the Capital of Silicon Valley, offers a broad mix of business and technological development. More than 1,500 of the nation's 2,500 electronics firms, including Adobe and Cisco Systems, are located in the region. Yet, beyond San Jose's modern high rises and sprawling campuses lies a history rich in agriculture and Spanish influence. Here's a taste of San Jose history since its early beginnings as California's first civil settlement, El Pueblo de San Jose de Guadeloupe.
Peralta Adobe and Fallon House
The Peralta Adobe, built in 1797, is the city's oldest existing structure and a legacy to San Jose's Spanish influence. The humble adobe, situated in a small downtown park, is named after pueblo official comisionado Luis Peralta, one of the state's first millionaires who occupied the adobe from 1807 until his death in 1851.
The Fallon House, a Victorian mansion built by one of San José's earliest mayors, Thomas Fallon, showcases 15 fully furnished rooms typical of the Victorian period. The site is located across from the Peralta Adobe and highlights a different era of San Jose.
Historic Sites
Plaza de Cesar Chavez, in the heart of downtown San Jose, bustles with excitement year round. It serves as both a park and venue for many of San Jose's unique outdoor events and festivals. A historical marker in the park references when California's first legislature met right across the plaza in a two-story adobe (a site now occupied by the four-star Fairmont Hotel) in 1849. The conclave was to prepare for California's admission to the union in 1850. (However, prior to actual admission, the capital was moved several times before Sacramento was finally chosen as the permanent location.)
Across from the plaza, visitors will find San Jose's first federal building (1892), which now houses the San Jose Museum of Art, and the Cathedral Basilica of St. Joseph (1877), one of the city's most architecturally stunning buildings. On the eastern edge of downtown is San Jose State University (1857), California's first institution of higher learning.
At downtown's St. James Square is the elegant Santa Clara County Courthouse built in 1868 in the vain hope that the state capital would be returned to San Jose. The structure has been in nearly continuous use since its dedication.
Agriculture
In the 1920s, the San Jose Chamber of Commerce referred to San Jose and the surrounding Santa Clara Valley as the "Valley of Heart's Delight." The area's rolling hills, vibrant orchards (nearly 80,000 acres of prunes) and canning plants provided an ideal setting for work and play. Soon, the vast orchards made way for urbanization. By the late 1990s, fewer than 400 prune acres remained.
"Historic" Attractions Preserve Yesterday, Today and Tomorrow
San Jose, a booming metropolitan area, is home to more than 900,000 people. However, San Jose's rich history is preserved at several area attractions. History Park at Kelley Park, in south San Jose, is a 14-acre historical site that brings to life the look and feel of late 19th century San Jose. The park features 27 original and replica homes, businesses and landmarks highlighting periods of the area's past. Paved streets, running trolleys, an old-fashioned ice cream parlor and San Jose's original light tower complete the charm of this fun, yet educational attraction. History Park houses more than 500,000 artifacts detailing the area's history.
The Mexican Heritage Plaza, a 55,000 square-foot cultural center, serves as a regional resource for cultural programming and education. It includes a 500-seat state-of-the-art theater and a 4,000-square foot exhibition space with two galleries celebrating the Latino legacy and exploring the common bonds across cultures. The Mexican Heritage Plaza hosts a variety of workshops, festivals, exhibits and community events.
And finally, the Tech Museum of Innovation gives visitors a sample of today's technology and a glimpse into the future. Visitors can design virtual roller coasters, take 3D computer portraits of themselves, pilot a remotely operated underwater vehicle, "fly" with a jet pack simulator and ride a virtual bobsled.
For more information on San Jose's historic attractions or other things to see and do, contact the San Jose Convention & Visitors Bureau at 888-SAN JOSE (726-5673).